The North Carolina 1:1 Learning Technology Initiative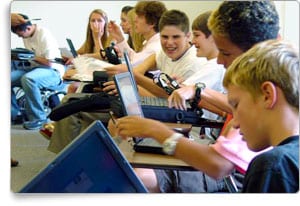 The NC 1:1 Learning Technology Initiative is a public-private partnership in which high schools across North Carolina take a strategic approach to creating a digital transformation in their schools.
The Model:
Final Outcome--Replication Materials:
The Framework for Planning a Digital Transformation is now available at Epic Ed. This national online community of practice offers a collaborative place where all educators can interact with others who are in the process of digital transformation. Planning guides, implementation plans, rubrics, needs assessments, etc. are available at no cost for any school or district wishing to replicate this program or launch a digital transformation in their school or district. All materials were developed as part of the NC Learning Technology Initiative.
Additional Support:
The North Carolina General Assembly provided funds for wireless Internet access throughout the schools, professional development and site-based staff for instructional support.
Program Evaluation:
The Friday Institute at North Carolina State University provided the evaluation.
Videos: Students and Teachers Tell Their Story