Prescribing a healthier life
Express Scripts® uses SAS® Analytics to increase medication adherence
Non-adherence to prescription drugs poses significant implications to the health of populations around the world, not to mention adding significant financial pressure on health care systems. For patients, non-adherence to their prescribed medications often results in disease progression and other complications, leading to a lower quality of life and, perhaps, even death.
Customer Success Video

Check out this video to learn more about Express Scripts and its successes with SAS.
(Runtime: 4 mins)
---
Customer Viewpoint
You have questions; our customers have answers. Check out this video Q&A.

Sharon Frazee
Vice President of Research

Dave Tomala
Senior Director of Advanced Analytics
---
(Requires Windows Media Player 6.4.7 or higher)
In the US, Express Scripts – one of the largest pharmacy benefit management companies in North America, handling millions of prescriptions annually through home delivery and retail pharmacies – is using SAS Enterprise Miner™ in a project to help improve the health outcomes of millions of patients. In addition, the project could help the health care system and insurance providers avoid billions of dollars in preventable, disease complication medical costs associated with patients who do not take their medications as prescribed.
"When we see patients requiring medications for chronic disease classes, such as hypertension, diabetes or high cholesterol, it's in everyone's best interest that patients take their medications exactly as prescribed," says Dave Tomala, Senior Director of Advanced Analytics at Express Scripts. "It's in a patient's best interest for better health outcomes – by preventing long-term complications from uncontrolled conditions – and in the payer's best interest because even though their medication spend may go up marginally, their medical costs will be contained due to the better health outcomes of their members."
"Published research has shown savings, depending on the age group and the type of condition, to be between $1,500 and $9,000 a year per patient," says Sharon Frazee, Vice President of Research. "For instance, a heart failure patient will have higher savings than a patient with hypertension, because if they don't take their hypertension medication the immediate implications will likely be less. However, it can lead to long-term microvascular system damage, which eventually will catch up with patients. On the other hand, if a patient has congestive heart failure disease that has progressed, they are already very sick – not taking prescribed medications has more immediate implications."
Using SAS Enterprise Miner, Tomala and his team developed predictive models to determine which patients in Express Scripts' customer base would be likely to adhere or not adhere to their prescribed drugs. This will help the company create proactive programs to increase adherence among patients identified as not likely to take their drugs as prescribed.

"The things we learn from the predictive models allow us to design better programs that help all of our patients and clients that pay for our services. You have to continually look for insights that can lead to better solutions that benefit everyone," explains Frazee. The flexibility and power of the models give Express Scripts the ability to assess over 400 different factors related to, among other things, patients, drugs, conditions and physicians. "Combined with the organization's advanced understanding of human behavior, the results are adherence scores that are far more accurate, informative and actionable than previously possible.

"What we're talking about is treating patients proactively," adds Tomala. "We can predict who's going to be compliant with their medication and who is not. When we see a patient filling a medication in our home delivery pharmacy, and we know they would benefit from an intervention, we will include a compliance device, such as a cap with a timer, which reminds patients to take their medication. We know that this particular device significantly helps people who have been identified by our models."
According to Tomala, in another project, high-risk patients for non-adherence are identified and contacted by automated phone calls, to help diagnose why they are likely to become non-adherent. Express Scripts then provides patients with tailored solutions that support them at the time when they are most likely to lapse from their prescribed regimen.
"The idea is to help those patients who generally take their doses, but fall off them when they run out," explains Tomala. "Often, people who are too busy to order a refill will get moved into an automated refill program. For patients not taking their medications because they're concerned that the medication is doing more harm than good, they will benefit from being transferred to a pharmacist who can help educate them."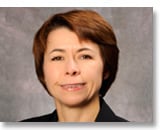 Sharon Frazee,
Vice President of Research 
"We're using SAS to turn data into insight, which can then be used to take action," says Frazee. "It's a virtuous circle. We constantly learn and tweak things to ensure that we're focused on the most optimal areas – reaching the right patients at the right time. SAS is very flexible for analysis. You can manipulate the data to do exactly what you need it to do to meet the challenges of the business."
"SAS is the de facto language in the predictive modeling world," concludes Tomala. "The capabilities of SAS have allowed Express Scripts to become a data mining powerhouse in the pharmacy benefit management industry – it sets us apart from our competition. And, our productivity has increased enormously. It's just a fact in the data mining world that there is no satiation point for organizational knowledge – the more questions we answer, the more questions we get. I feel like we've become a much more valued team in the organization."
The results illustrated in this article are specific to the particular situations, business models, data input, and computing environments described herein. Each SAS customer's experience is unique based on business and technical variables and all statements must be considered non-typical. Actual savings, results, and performance characteristics will vary depending on individual customer configurations and conditions. SAS does not guarantee or represent that every customer will achieve similar results. The only warranties for SAS products and services are those that are set forth in the express warranty statements in the written agreement for such products and services. Nothing herein should be construed as constituting an additional warranty. Customers have shared their successes with SAS as part of an agreed-upon contractual exchange or project success summarization following a successful implementation of SAS software. Brand and product names are trademarks of their respective companies.
Copyright © SAS Institute Inc. All Rights Reserved.