The Algebra Readiness Initiative (ARI):
Opening Gateways to Success in the 21st Century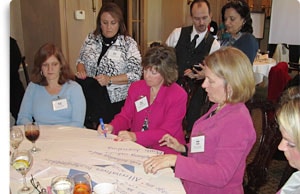 Triangle High Five educators discuss best practices in math instruction.
The demonstrable gateway for later achievement in high school and post-secondary education is access to Algebra I in middle school. In 2009, SAS supported the Triangle High Five Partnership and its five public school districts as they launched the Algebra Readiness Initiative (ARI). This effort helps teachers identify and engage in highly effective instructional practices and address disparities in mathematics achievement related to race and income. The primary goal of ARI is to increase the number of students who are prepared to be successful in Algebra I in middle school.
Recognizing the increased need for professional development, the districts planned an Algebra Readiness Summit hosted on the SAS campus in August 2010. School teams consisting of 400 math teachers and principals interacted with nationally recognized presenters discussing critical topics and research-based instructional strategies related to algebra proficiency. The Second Annual Algebra Readiness Summit is scheduled for Aug. 10.