SAS® for Utilities
Harness data and customer intelligence to forecast usage and optimize operations
The staggering global appetite for energy and the push for smarter infrastructure have put pressure on utility professionals to innovate their business models. But doing so requires making sense of operational and customer data buried deep within IT systems that are neither integrated nor fully utilized.
Energy and utility leaders around the world rely on the power of SAS to deliver the analysis, forecasts, and energy trading and risk management systems for effective decision making across the enterprise.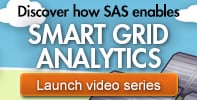 " "SAS allows us to develop what we need quickly and accurately. It's very powerful and it enables us to react fast to changes in the market.""
—Joe Cooper
Director of Risk Analytics
Dominion
Which Problem Are You Trying to Solve? 
Collections Optimization
Utilize smart meter data and capabilities to manage bad debt and improve the rate of collections.
Customer Analytics
Improve understanding of your customer base in order to communicate, grow and retain relationships.
Forecasting
Optimize resource allocations, predict future growth and deepen insight for the utility planning process.
Predictive Asset Maintenance
Improve uptimes, performance and availability of crucial assets while reducing unscheduled maintenance.
Risk Aggregation
Attain a holistic view of risks and uncover opportunities for profit or minimization of loss.
Smart Meter Program Management
Improve management of smart meter assets, from rollout through operations and maintenance.
Utilities Solutions
SAS® Predictive Asset Maintenance
SAS Predictive Asset Maintenance helps organizations to accurately predict events that could cause outages and to run their assets at peak performance. The solution uses data integration, automation, analysis and predictive analytics to boost uptime, performance and productivity while lowering maintenance costs and the risk of revenue loss.
View Screenshot
SAS® BookRunner®
SAS BookRunner provides organizations with the ability to proactively capture, analyze and simulate market and credit risks associated with energy commodity price volatility. Through an integrated energy trading and risk management (ETRM) framework, SAS BookRunner delivers a portfolio-level view to measure, manage and control energy risk. This front-to-back-office solution includes deal capture, data integration, advanced predictive analytics, compliance reporting and a full suite of sophisticated risk modeling tools.
SAS® Energy Forecasting
SAS Energy Forecasting provides trustworthy, repeatable and defensible load forecasts for planning horizons that range from very short-term to very long-term. Built on SAS' experience in working with hundreds of utilities worldwide, the solution offers a broad degree of automation, scalability, statistical sophistication and transparency. It enables utilities to operate more efficiently and effectively at all levels of decision making.
View Screenshot