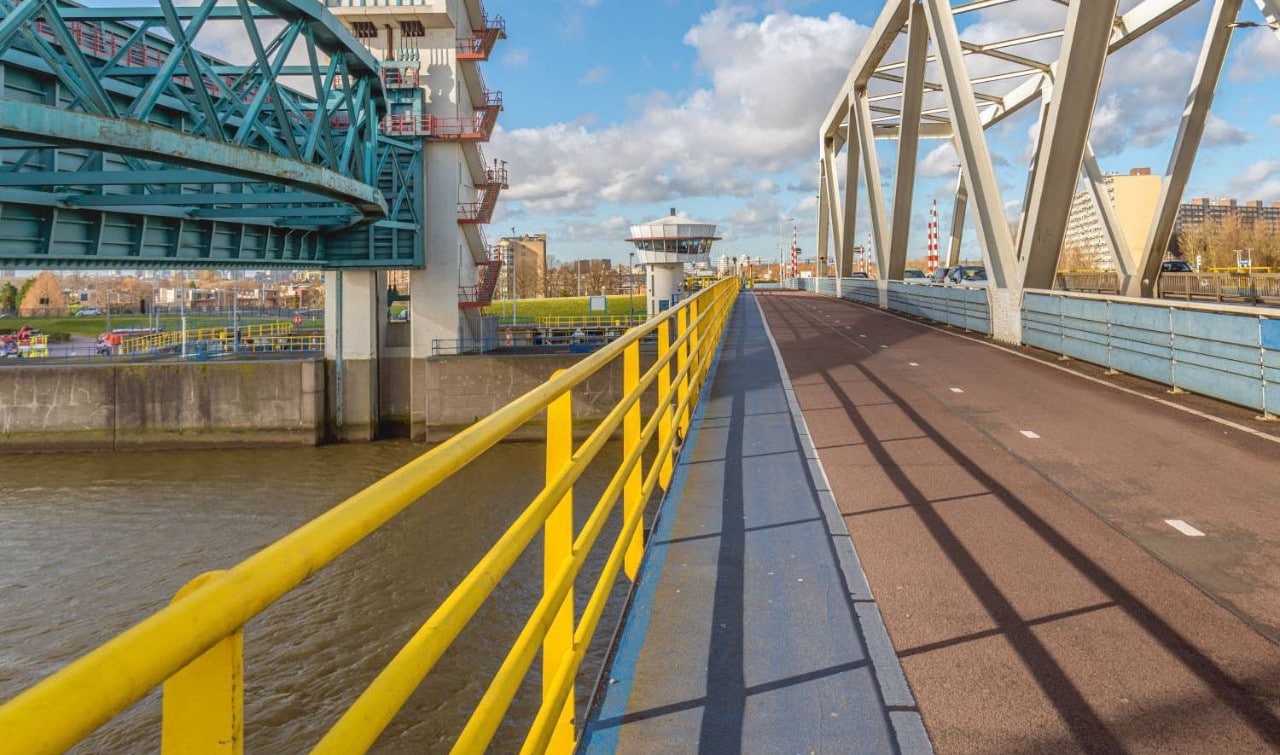 Managing Dutch roads and waterways with intelligence
Real-time insights on traffic, tunnels, bridges, floodgates and locks.

Keeping citizens safe and traveling smoothly
A modern AI, IoT and analytics platform powered by SAS® Viya® 4 helps Rijkswaterstaat move from reactive to predictive infrastructure maintenance
Nearly one-fifth of the Netherlands is covered in water. And that percentage would be even greater if not for Rijkswaterstaat, the Dutch government agency responsible for designing, constructing and managing the country's extensive waterways and infrastructure system. The Netherlands would be largely uninhabitable without the flood defenses and water management structures employed by Rijkswaterstaat. The agency is the mastermind behind some of the most prestigious water projects in the world.
Although the Dutch waterway network is the densest in Europe, water management, canals, bridges, locks and dikes aren't the entirety of Rijkswaterstaat's responsibilities. As part of the Dutch Ministry of Infrastructure and Water Management, it also maintains nearly 140,000 km (86,992 miles) of public roads, more than 3,000 km (1,864 miles) of rail lines, and 35,000 km (21,748 miles) of cycling paths.
Managing the Netherlands' infrastructure is critical, so Rijkswaterstaat has used SAS for many years to gain insights into the country's traffic flows to keep citizens safe and traveling smoothly.
---
We control virtually every process in our organization with data, so it is essential that we work with an analytics platform that is user-friendly and accessible to everyone. By transitioning to SAS Viya, we are ready for the future.

Hans Soeteman

Head of Information Provision Platforms

Rijkswaterstaat
---
Tradition meets innovation
Rijkswaterstaat has been responsible for the Netherlands' roads and waterways since 1798. Through the centuries, the agency's projects and tasks have evolved, but its mission remains the same – promote safety, mobility and quality of life. To do all this most effectively, Rijkswaterstaat is always looking for innovative solutions that increase performance while reducing costs. That's why the Information Provision Platforms department at Rijkswaterstaat decided to migrate from SAS® 9 to SAS Viya 4. The decision is paying off.
Every primary process in our organization is data-driven," says Hans Soeteman, Head of Information Provision Platforms for Rijkswaterstaat. "We have just under 400 dashboards covering subjects ranging from very important, socially relevant topics – such as how many kilometers of asphalt are in use and what is the condition of that asphalt – to purely internal dashboards about processes in our department."
Those dashboards are increasingly taking on a predictive nature.
"Previously, we mainly reported on what had happened – we looked back," Soeteman says. "Today, forecasting is the ambition. For example, think of predictive maintenance on our assets, which are full of IoT sensors that measure deviations from the normal behavior of a variety of components in Rijkswaterstaat objects like bridges, floodgates and tunnels."
Given the vast and continuously growing number of dashboards and their increasing importance, Rijkswaterstaat's analytics platform must be easily accessible and user-friendly for all employees.
"We were running SAS 9 on-premises, on our own systems," Soeteman says. "Its analytical capabilities are strong, and it performs its tasks reliably, but you need some knowledge to build a dashboard. Moreover, it takes a lot of time and energy to migrate to newer versions when you manage your own systems."
According to Soeteman, some knowledgeable, longtime SAS users had seen SAS Viya. They recommended it as incredibly user-friendly, with many new features in terms of visualizations, analytics and open source integration. 
Transformation built on mutual trust
As an early adopter of SAS Viya 4, Rijkswaterstaat benefited from SAS' early adopter program, which includes the technical migration as well as the organizational perspective.
"Working with new software means a transformation for the team," Soeteman says. "They must start working differently and be receptive to change. SAS' early adopter program provides a lot of support in this area."
Rijkswaterstaat's decadelong relationship with SAS also influenced the decision to modernize its analytics platform.
"We have been working with SAS for 10 years, and the software has always been stable," Soeteman says. "But even more important is that over the years a relationship of trust developed. From this mutual trust, we had the courage to break new ground together."
Since Rijkswaterstaat migrated to Viya, the reviews from agency staff have validated the transition.
"I have heard positive reactions from users who find SAS Viya more user-friendly, and the analytical performance has also improved," Soeteman says. "Additionally, with SAS Viya we can develop new dashboards faster and easier. It's also easier to integrate streaming data, data management has improved, and users have more control over data quality. Last but not least, life cycle management has been enhanced because everyone is now working on the latest version of the software at all times."
Rijkswaterstaat – Facts & Figures

4,400 km
of navigable waterways
140,000 km
of public roads 
Future perspective
Although Rijkswaterstaat was already a data-driven organization, its use of predictive analytics will only increase going forward.
"We can no longer do without data," Soeteman says. "There is a huge replacement and sustainability task ahead. Data and insights will be essential to execute those tasks well."
Since the migration, Soeteman says the demand for dashboards has increased in every part of the organization. "Dashboards are a vital part of the way we work. Everyone wants real-time insight into the area he or she is responsible for – whether it's the flow of traffic, water management, or the status of tunnels, bridges, floodgates or locks."
Ultimately, SAS Viya helps Rijkswaterstaat get more done with a faster, more productive AI and analytics platform.
"We control virtually every process in our organization with data, so it is essential that we work with an analytics platform that is user-friendly and accessible to everyone," Soeteman says. "By transitioning to SAS Viya, we are ready for the future."
---
The results illustrated in this article are specific to the particular situations, business models, data input, and computing environments described herein. Each SAS customer's experience is unique based on business and technical variables and all statements must be considered non-typical. Actual savings, results, and performance characteristics will vary depending on individual customer configurations and conditions. SAS does not guarantee or represent that every customer will achieve similar results. The only warranties for SAS products and services are those that are set forth in the express warranty statements in the written agreement for such products and services. Nothing herein should be construed as constituting an additional warranty. Customers have shared their successes with SAS as part of an agreed-upon contractual exchange or project success summarization following a successful implementation of SAS software. Brand and product names are trademarks of their respective companies.