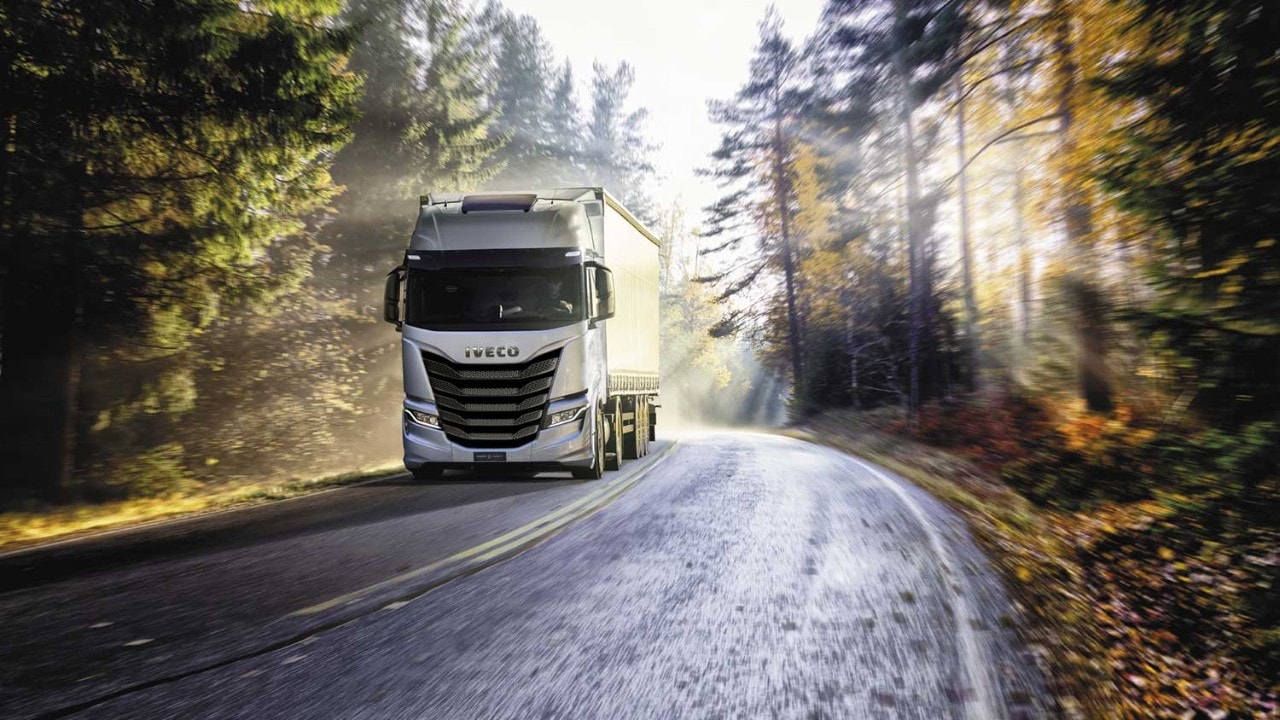 Putting IoT data from connected vehicles to work
SAS advanced analytics interprets vast amounts of sensor data to uncover hidden insights.

Reduced vehicle maintenance costs
through innovative remote diagnostic tools
Iveco Group uses SAS Viya on Amazon Web Services to improve vehicle design and remote diagnostics for its trucks
Looks can be deceiving when it comes to industrial vehicles. What appears muddy, loud and crude can actually be smart, secure, sustainable and digitally connected. At least, when Iveco Group makes them.
As a multinational transport vehicle manufacturing company, Iveco Group designs, produces and sells heavy, medium and light duty commercial vehicles in addition to engines and specialty vehicles. While the company's headquarters are in Turin, Italy, it has 29 manufacturing plants and 31 R&D centers located around the world. In other words, Iveco Group has a highly complex business.
Iveco Group is undergoing a major digital transformation to enhance its digital capabilities. One key aspect is improving the remote diagnostic capabilities of its trucks. Doing so will allow Iveco Group to identify and fix potential problems faster and earlier, ultimately leading to happier customers and higher revenue.
The analytics needs of the company are demanding, but it found an answer in SAS Viya. Read on as Stefano Rozzi, Telematics Quality and Field Analysis Manager at Iveco Group, shares details of his transformational analytics project.
---
With facilities scattered throughout the world, one prerequisite was having a single shared tool that brings all our data together in one place. SAS Viya on AWS gives us this capability.

Stefano Rozzi

Telematics Quality and Field Analysis Manager

Iveco Group
---
Where does analytics fit in your digital transformation?
Rozzi: The markets we serve are evolving rapidly. One example is the emergence and spread of connected vehicles. While this transformation brings the promise of increased speed, productivity and revenue, it's also triggered new challenges related to the use of data. To benefit from the streaming data, we need the ability to interpret it effectively. This requires data professionals skilled in advanced data analysis, and because speed is fundamental in our work, powerful tools to analyze the huge amounts of data quickly.
Rozzi: Our vehicles contain more and more sensors. This gives us a huge advantage, provided we know how to extract value from the data. As IoT data streams into our systems, it's impossible to process it manually, so we use advanced analytics from SAS to process the data, model it and uncover hidden information to improve vehicle design and enable predictive maintenance.
From the patterns we uncover we can immediately understand, for example, which vehicles show anomalous behaviors in the field. This allows us to make more informed decisions, such as targeting interventions for vehicles that show anomalies and investigate why they differ from others. This prevents repeat problems. It also allows us to share these insights with customers so they can proactively fix issues before they become major problems, thereby reducing vehicle recalls, especially those under warranty.
The interesting thing is that IoT, advanced analytics and AI enable us to understand behaviors and events of a single vehicle, or a few dozen of them, even if they are scattered around the world. This is possible because the data from each vehicle flows into our SAS Viya platform, enabling real-time analysis.
Why did you choose SAS over competing platforms?
Rozzi: Three main reasons. One, we've used SAS successfully for a number of years in our quality department. We also received positive references from other companies in the sector that use SAS for predictive maintenance. Finally, we were pleased by the results of the proof of concept, which identified anomalies in telematics data for vehicle timing. When adding these factors up, the decision to go with SAS was straightforward.
Iveco Group – Facts & Figures

Why did you choose SAS Viya for this project?
Rozzi: A big challenge for companies like ours is the ability to unite two disconnected worlds: data analysis and design. Until a few years ago, vehicle designers did not feel the need to collect data on the use of vehicles in the field. Today, this data drives our business.
For vehicle usage data to be helpful during the design phase, it's essential that people understand the value of it. And this requires easy-to-use analytics. This is where SAS Viya is so beneficial.
SAS Viya not only allows our analysts to do all the hardcore analysis they want on the data – to structure the data and create models in a very agile way – but they can share the information in a very intuitive and simple way. This allows people without data skills to understand patterns and use them during the design phase. A graph is much more intuitive than a sequence of data. This clarity greatly raises confidence in our analytics and triggers new mechanisms in decision-making and operational processes that help us be more objective, data-driven and analytics-based.
Why did you opt to deploy SAS Viya in the cloud?
Rozzi: With facilities scattered throughout the world, one prerequisite was having a single shared tool that brings all our data together in one place. SAS Viya on AWS gives us this capability. In fact, by deploying SAS in the cloud, we're able to make data and reports available to employees worldwide, just moments after they've been created.
This ease of use cannot be overstated. The data analyst who creates the analysis and reports is clearly a specialized person. But the information they provide is easy for anyone to understand. Even non-technical people can take advantage of this information, which is made available in a variety of formats to meet the specific needs of recipients.
The best part is that SAS allows our people to integrate the data autonomously so they can find precisely what they're looking for without having to ask data analysts to intervene every time. This is an extraordinary opportunity because it speeds up our ability to understand, comprehend and therefore to react to anything, and make quicker and more effective decisions.
At the end of the day this is a super-innovative telematics project. By exploiting data from connected vehicles, we're able to reduce vehicle maintenance costs for our customers through innovative remote diagnostic tools. It's all possible by an analytics platform that allows our designers and analysts to speak the same language. This was unthinkable just a few years ago.
---
Les résultats présentés dans cet article sont spécifiques à des situations, problématiques métiers et données particulières, et aux environnements informatiques décrits. L'expérience de chaque client SAS est unique et dépend de variables commerciales et techniques propres, de ce fait les déclarations ci-dessus doivent être considérées dans un contexte. Les gains, résultats et performances peuvent varier selon les configurations et conditions de chaque client. SAS ne garantit ni ne déclare que chaque client obtiendra des résultats similaires. Les seules garanties relatives aux produits et services de SAS sont celles qui sont expressément stipulées dans les garanties contractuelles figurant dans l'accord écrit conclu avec SAS pour ces produits et services. Aucune information contenue dans le présent document ne peut être interprétée comme constituant une garantie supplémentaire. Les clients ont partagé leurs succès avec SAS dans le cadre d'un accord contractuel ou à la suite de la mise en œuvre réussie du progiciel SAS. Les noms de marques et de produits sont des marques déposées de leurs sociétés respectives.