Lessons learned, looking forward
Data-informed community colleges are changing the conversation – and the results
By Karen Stout, Ed.D., President and CEO, Achieving the Dream
Why are students successful in certain demographics? Are we meeting certain college key thresholds that we have set? Are students who have experienced certain programs within the college more successful? Are initiatives to help first-generation or low-income students working?
These are the kinds of questions educators want to be able to answer with confidence – and evidence. Better data leads to better decisions that help drive success for students and the institution. Better analytics leads to new discoveries that would otherwise be missed. Better self-service discovery and visualization tools change the culture to one where people embrace data and use it for guidance.
This is the mission of Achieving the Dream, the national reform network that champions evidence-based institutional improvement. The national initiative was conceived in 2004 by a visionary group of partners and investors led by the Lumina Foundation. With support from partners, investors and network members, Achieving the Dream has expanded to include more than 200 colleges across 35 states and the District of Columbia.
Data highlights when and where students struggle, helps prioritize efforts and sets a direct, clear course toward sustainable change that advances student achievement.
Together, we have changed the conversation from a focus on student access to higher education to one that prizes access and success for all students, particularly low-income students and students of color.
Data is central to that mission. Big data in education can tell us what we don't know about students, their motivations and their habits. Data can tell us what impedes student success, why some discontinue studies while others flourish, and what interventions will make the most difference. Data can identify capacities we must build to become high-performing organizations that improve student learning while repaying public investments and keeping tuition affordable.
That's why building a culture of data and evidence is a prime focus area for us. Achieving the Dream colleges use data-informed decision making to close achievement gaps and improve student outcomes. That mission is critical because we will need 11 million more credentialed workers by 2025.
Continuous progress. Quantifiable results.
We have seen firsthand what happens when there is long-term, sustainable commitment to improving student success. Achievement gaps close. Momentum builds. Lives change. Neighborhoods flourish.
By all accounts, the consortium concept for institutional reform is working. A 2014 survey showed many positive changes for community colleges that joined the Achieving the Dream network:
96 percent increased their use of data.
95 percent intensified their focus on student success.
79 percent revised and/or created new policies and procedures to support student success.
73 percent added more resources to support student success.
66 percent improved student outcomes.
66 percent reported broader faculty engagement and more courageous conversations.
63 percent achieved greater commitment to equity and closing achievement gaps.
These are encouraging results, but there's more to be done, and we have to change our approach if we hope to get there.
Evolving the model
The model that worked in the early stages of Achieving the Dream is not working for all of our colleges today. We started with five founding principles: committed leadership, evidence-based decisions, broad engagement, systemic institutional improvement and equity.
The five founding principles remain relevant. We are evolving to a new theory-of-change model based on what we have learned, much of it from a 10-year focus on evidence-based approaches. The new model is based on seven capacities that we believe lead to a high-performing, student-centered culture that boosts student progress and completion.
The seven capacities that lead to a high-performing, student-centered culture.
The new model adds focus to three capacities that were not highlighted in the old model:
Teaching and learning. Success requires intentional attention to our core work. This is about empowering faculty to advance student success by improving the method and practice of teaching – building coherent and clear course and program sequences, engaging in pathway design and advising reform. Our "cafeteria" approach must move to one where students see a clear academic path with academic supports well-aligned with those paths.
Strategy and planning. We must design with the end in mind – plan for scale on the front end of design rather than on the back end. Tiger Woods said his father told him to play the hole from flag to tee box, rather than from the tee box to the flag. That subtle change in thinking changes one's entire approach. We are also learning that scale can be universal (an intervention touches all students) or targeted (the intervention only touches certain students).
Data and technology. IT and the use of data have changed profoundly since 2004. Think cloud, Hadoop, high-performance analytics, visual analytics, mobile apps and more. So much has changed about what is possible, even commonplace, in using data as a lever for campus transformation.
You don't see the culture of evidence capacity in the new model, but it didn't go away. Far from it. Implicit in this model is the understanding that high performance in every area requires use of evidence. It's an inherent part of the model.
The big hypothesis, of course, is that colleges that rank strongly in all seven areas will see significant aggregate movement in student success and completion no matter what intervention strategies they choose to embrace – guided pathways, advising redesign, etc.
Some colleges are further along in this journey than others. Early-phase colleges may need a full Achieving the Dream "treatment." Others may need deep, customized technical assistance in one, two or three areas. We are developing a capacity assessment tool for colleges to assess strengths and gaps in each area and modifying our coaching model and services to match this more customized approach.
Looking ahead
I'd like to conclude by offering some thoughts on the trends in this analytics movement, as well as barriers that we will continue to face. As leaders in community college reform, we need to:
Show the value. The accountability movement is not going away as it did in past cycles of conversations about higher education reform. The Chronicle of Higher Education contributor Jeff Selingo challenges us all to take the lead in defining the value of our institutions and figuring out how to measure it before others do it for us.
There are worthy efforts, such as the Voluntary Framework of Accountability (VFA) for community colleges and the Skills Assessment Manager (SAM) for gauging proficiency with Windows applications. Achieving the Dream metrics will need to be increasingly aligned with these efforts.
We need to engage journalists, private vendors and others who have access to our data to help tell their story about our value. Selingo speaks to the potential power of LinkedIn, for example, to combine new government statistics with the wealth of information it has on users to show the economic impact of what we do.
Gain deeper insights into pedagogy. We have an urgent need to blend learning analytics with student information systems so we can learn more about student learning behaviors in and out of the classroom. To do this we must work to build vendor crosswalks, persuade faculty to adopt tools to make a difference, and address skepticism about moving from a transactional approach to a holistic one in advising students. We must re-examine the adviser and the faculty role in advising and perhaps bring deeper use of analytics into that process.
Develop partnerships. We are in a new era of partnerships, Partnerships 2.0, where our data systems must be connected across K-12, community colleges and universities, state agencies, labor market data, social services data – and even integrated with private vendor data.
Our Working Students Success Network (WSSN) strategy is one example. This innovative Achieving the Dream program integrates and bundles three distinct but related services – job training/placement, access to student financial aid and tax credits, and financial education and products – to help families build assets and self-sufficiency. Naturally this three-pronged approach requires a flow of data across multiple partner systems.
Invest in institutional research (IR). We must build further depth in our IR operations and extend support for applied research by faculty. We need more "semiprofessional analysts" on our campuses – professionals skilled in:
Managing large quantities of data.
Using visualization tools and techniques.
Designing experiments.
Speaking the language of research.
Telling the stories that come from that research.
We need to develop deeper analytical expertise in middle managers so they have technical skills plus the ability to work in teams and communicate and synthesize findings, results and next steps. We need to speak the language of data.
Organize for openness and agility. We need to rethink not just how we staff the institution but how we design the organization to facilitate openness and agility.
Organizational dynamics. IT and IR need to strengthen their relationship. Data stewardship across the institution needs a new and more strategic look. The head of the data decision support system must be part of top leadership.
IT tools. The tools to handle the volume, velocity and variety of big data continue to improve in most vertical markets, but higher education is not keeping up. We seem less willing to abandon legacy systems and less bold to adopt open source solutions or combinations of open source and proprietary systems.
Closing thoughts
Community colleges remain the nation's gateways to good jobs for millions of students who dream of a better tomorrow. Yet too often these dreams are cut short. Nearly half of all students seeking higher education choose a community college, but less than half of those students actually finish what they start.
For the first time in our history, the current generation of college-age Americans will be less educated than their parents' generation. Those without an education will be unable to compete in a national landscape that more than ever before demands high-level job skills.
Achieving the Dream network members are working to turn that around. We're creating a strong culture of data and evidence to make sure investments in reform are the right ones, the ones that pay off.
The goal is too important for anything less. Student success means so much more than a personal goal attained. It means better skills, better employability, and economic growth for families, communities and our nation as a whole.
---
Karen A. Stout became President and CEO of Achieving the Dream, Inc., on July 1, 2015. Dr. Stout is a nationally renowned scholar and academic leader in strategies for enhancing student success and completion, data informed decision making, accelerating and scaling innovation, and new approaches to community college fundraising.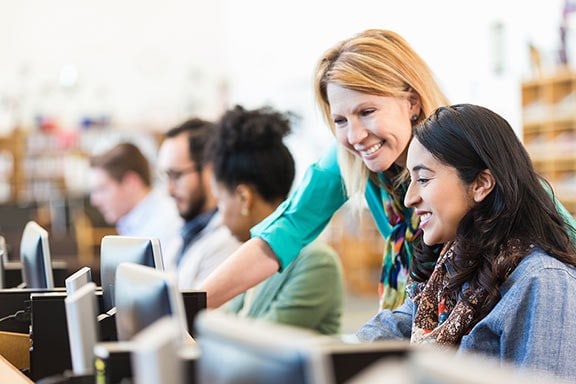 The Achieving the Dream article series:
Lessons learned, looking forward