Travel operator goes further with advanced analytics
DER Touristik Köln uses SAS® to forecast demand for airline seats and hotel rooms, prepare for unexpected events
Travel products, like airline tickets and hotel reservations, are highly perishable. Every unoccupied airplane seat and every empty hotel bed costs tour operators money. As a result, travel operators need the latest comprehensive information about bookings, reservations and capacity for airlines, hotel and vacation home facilities.
SAS provides our staff with the data they need to make strategic and profitable decisions, while helping us fine-tune travel plans and accommodations to meet the needs of our customers, regardless of the destination.
Christina Drskovic
Head of Management and Support Systems

As one of the leading travel and tourism groups in the German-speaking world, DER Touristik Köln knows that better, more accessible data can help it make smarter decisions about its services. That's why the company takes advantage of SAS business intelligence and analytics solutions to keep employees up-to-date in this dynamic environment.
Extensive decision support
DER Touristik Köln began using SAS data marts more than two decades ago and has evolved its system continually to adapt to growing data volumes, new information demands and changing expectations from managers and line employees. Now, more than 300 senior managers, decision makers and experts in the company's sales, product management and promotion departments use SAS Visual Analytics to make operational and strategic decisions.
The solution creates reports from data mainly stored in four data marts next to hundreds of additional data sources that support sales management, flight performance management, hotel performance management and product management. Travel agents use these data marts to run sophisticated queries about sales, travel time, catalog IDs or sales regions.
"With SAS Visual Analytics, presentable and functional insights can be produced very quickly," said Herbert Grossmann, BI Project Manager at DER Touristik Köln. "And the IT department appreciates the features and capabilities available to the business teams to perform complex analyses. Now employees without that technical backgrounds can conduct their own visual data discovery and exploration."
Forecasting airline demand and capacity
Flight expenses represent a significant portion of a tour operator's total travel costs. DER Touristik Köln is only profitable if it controls flight capacity precisely to ensure it has just enough seats to bring guests to the resort without any vacancies aboard. By using SAS to analyze data about past bookings, travel trends, customer preferences and holiday dates, experts at the company can predict future demand for flights to the 50 vacation destinations it serves. Accurate projection allows the purchasing department to accurately secure the number of seats it will need well in advance when it can obtain the best prices.
The purchasing department also uses SAS to continually monitor the company's available supply of airline tickets from the time of purchase until departure. The company uses this information to sell as many tickets as possible – or spot impending shortfalls so it can order additional seats when necessary.
"The goal is to balance purchased capacity with customer demand," explains Christina Drskovic, Head of Management and Support Systems for DER Touristik Köln.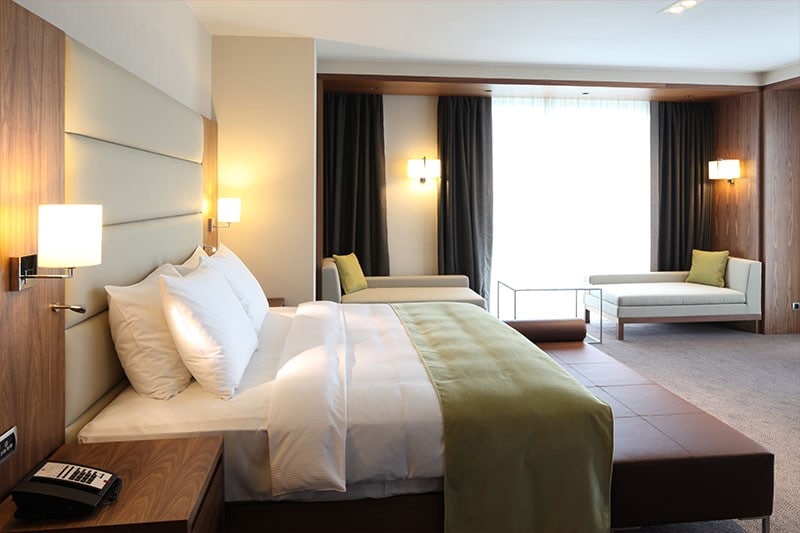 Ensuring sufficient hotel reservations
A similar dynamic applies to purchasing the right hotel room capacity in the right destinations at the most attractive prices. Purchasers use analytics to analyze previous seasons to see how well different regions and hotels performed in the past. This information allows them to accurately determine the number of reservations they need for the coming seasons, and negotiate with hoteliers to lock in on prices that meet anticipated demand. The company also relies on SAS to help recognize up-and-coming trends in the travel market early to secure attractive deals.
Planning for the unexpected
The use of business intelligence goes beyond planning for the best possible outcome. SAS even helps the company prepare for and respond to unexpected political crises and natural disasters. If a security situation, such as a strike at an airport, deteriorates or a natural disaster, like a volcanic eruption occurs, DER Touristik Köln needs to evacuate travelers quickly.
The company uses SAS Analytics to evaluate existing flight data and calculate alternative scenarios that will help to fly tourists out of the area quickly. Managers can review these options and select the most appropriate routes.
DER Touristik Köln also uses SAS to quickly grasp and classify the extent of any crisis. The company can instantly obtain information regarding how many tourists it has in which locations. Additionally, management reports allow the company to make fact-based decisions and simplify communication with travelers, the media and government agencies.
"For over 20 years, DER Touristik Köln has relied on SAS to prepare for both everyday and crisis situations," says Drskovic. "SAS provides our staff with the data they need to make strategic and profitable decisions, while helping us fine-tune travel plans and accommodations to meet the needs of our customers, regardless of the destination."


Challenge

Forecast demand for airline seats and hotel rooms.
Evacuate travelers due to political crisis or natural disaster.

Solution

Benefits

Accurately purchase airline seats and hotel room capacity in advance to optimize profitability.
Quickly and safely evacuate travelers when necessary.
The results illustrated in this article are specific to the particular situations, business models, data input, and computing environments described herein. Each SAS customer's experience is unique based on business and technical variables and all statements must be considered non-typical. Actual savings, results, and performance characteristics will vary depending on individual customer configurations and conditions. SAS does not guarantee or represent that every customer will achieve similar results. The only warranties for SAS products and services are those that are set forth in the express warranty statements in the written agreement for such products and services. Nothing herein should be construed as constituting an additional warranty. Customers have shared their successes with SAS as part of an agreed-upon contractual exchange or project success summarization following a successful implementation of SAS software. Brand and product names are trademarks of their respective companies.