SAS® for ...
Chief Risk Officer (CRO) – Banking
RiskTech100® Awards
Chartis Names SAS a Winner in Seven Categories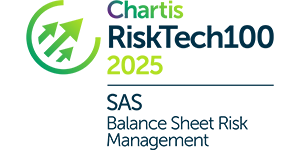 Continuing its march up the world's foremost ranking of the Top 100 risk management and compliance technology providers, SAS bested seven technology award categories, including AI for Banking, Balance Sheet Risk Management, Behavioral Modeling, Enterprise Stress Testing, IFRS 9, Model Risk Management, and Risk & Finance Integration.
How a Bank's CRO Uses SAS
Streamline and automate processes for an agile adaptation to evolving market conditions.
Meet regulatory requirements while increasing profitability, improving efficiency and optimizing capital.
Create tangible business value by adopting a unifying, open and transparent platform that executes the full risk life cycle.
Featured Customer
Bendigo and Adelaide Bank
Bendigo and Adelaide Bank uses SAS to manage risk and move faster in the marketplace.
We needed highly trusted information that we could access quickly, without worrying about the integrity, reliability or timeliness of it.

Taso Corolis

Head of Risk Analytics
Bendigo and Adelaide Bank Facts & Figures
80%
loan portfolio & credit risk data moved to one platform in a few months
1 centralized
credit risk modeling environment
reductions
in errors, omissions & maintenance costs
Recommended Reading & Viewing for CROs