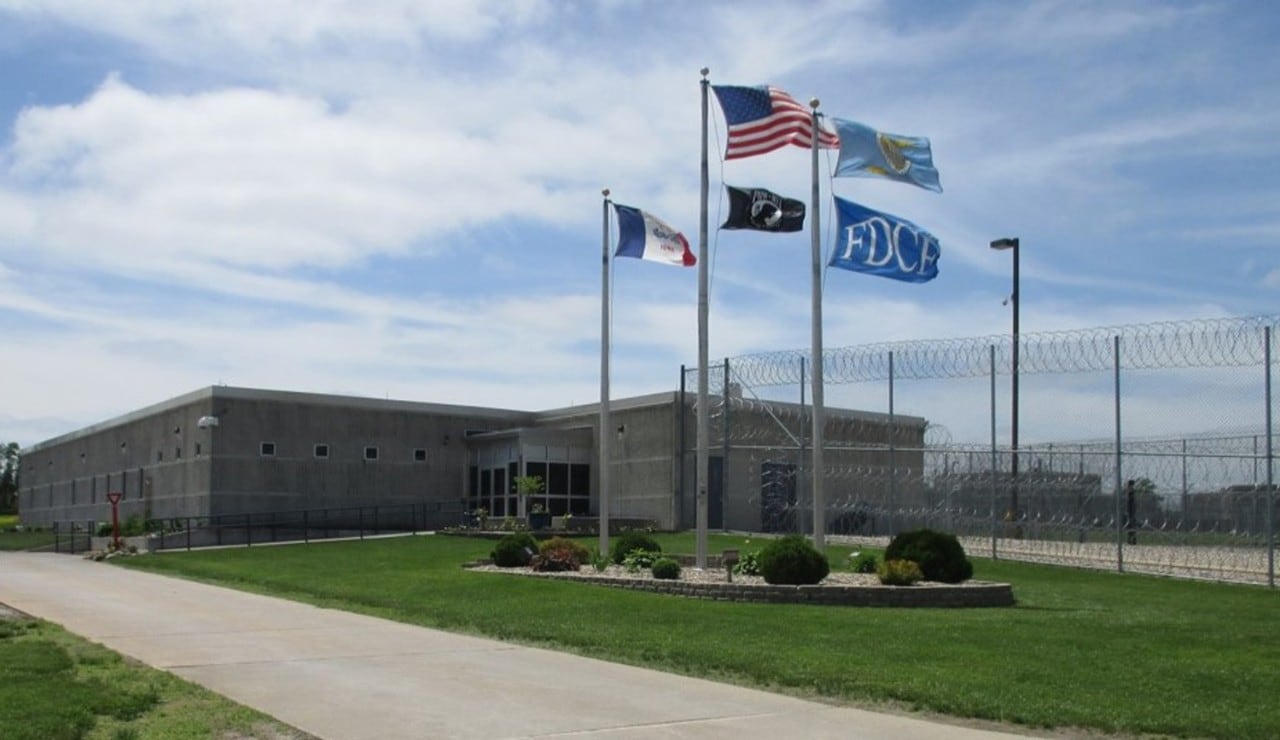 Making prisons and communities safer with data visualization
Proactive interventions and operational efficiencies enhance outcomes for supervised populations and staff.

Improved public safety and reduced recidivism
via data-driven decisions
Iowa Department of Corrections uses SAS® Viya on SAS® Cloud to better manage supervised populations, make informed decisions and improve public safety
On Friday nights in the early months of the COVID-19 pandemic, the weekend hadn't begun for workers at the Iowa Department of Corrections (DOC). Instead, a half-dozen central office team members worked late to key in COVID testing for the department's overly taxed nursing staff.
This task was just one of many manual, time-consuming processes that correctional agencies across the country attend to. Long-existing issues in prisons – such as health care, violence, recidivism, staff safety and retention – were made worse by the pandemic, leaving corrections agencies with tough decisions to make and fewer staff to make them.
The Iowa DOC, which manages nine prisons, realized the answer was already in front of them: data.
Supervised populations, like prisons and jails, collect huge amounts of data each day. Rising COVID infections became a big motivator for the Iowa DOC to access and analyze even more data. The department needed to track who had COVID and where, identify who was at risk of infection and make informed decisions to keep them safe.
But the Iowa DOC's manual processes and spreadsheets to collect and report data weren't up to the task.
"We needed a supervised population solution to manage our prison populations to the best of our abilities and make smart release decisions during COVID as well as post-pandemic," says Sarah Fineran, Research Director for the Iowa DOC.
---
The dashboards have created so many efficiencies where we absolutely needed them. What would have taken us hours or days to pull can now be accomplished within a matter of minutes or seconds.

Sarah Fineran

Research Director

Iowa Department of Corrections
---
Making better decisions with data for safer populations
The Iowa DOC turned to SAS to help it improve efficiencies, get the best insights into its supervised populations and support data-driven decisions to make employees, offenders and communities safer.
"Our data team is integral to nearly every single part of corrections, whether it's safety and security, hiring practices, strategic planning or technology," Fineran says. "We needed to work smarter across all these areas, and any process efficiencies we created needed to be sustainable in the long term."
Using SAS Visual Analytics and SAS Visual Statistics, the Iowa DOC rolled out three dashboards in the 2020-2021 time frame focused on efficient population management:
Medical outbreak management dashboard, designed to help control and monitor the spread of COVID-19 as well as properly administer vaccines. Iowa DOC personnel can quickly determine where to move staff, offenders and personal protective equipment within and among facilities to prevent the spread of disease. 
Release candidate dashboard, developed to help determine the best release candidates. This dashboard uses multiple data points and filterable options – such as recent incidents, length of sentences and type of offense – to provide risk scores of parole candidates. Combined with additional tools, this helps correctional officers identify who to place before the Board of Parole as the strongest candidates. 
Early alert and intervention dashboard, designed for community-based correctional supervision and proactive public safety decisions. Data-driven algorithms help probation and parole officers monitor released individuals and intervene where appropriate to prevent recidivism and new victims.
Moving from reactionary to proactive management
Dr. Beth Skinner, Director of the Iowa DOC, wanted a technology solution that would turn traditionally reactionary responses in criminal justice and corrections into proactive approaches.
With interactive data exploration and visualization, the Iowa DOC can manage, interpret and report data, giving it an edge as it works to stabilize its populations and make optimal public safety decisions.
The ability to stop re-offenses or violent acts before they happen becomes even more critical as state corrections agencies deal with workforce shortages. "If a parole officer has a caseload of 60 to 100 – and they see these flags coming – they can triage who they need to visit first and better manage their caseload," Skinner says.
"Our goal is to create safer communities and reduce victimization, and data puts us on the right path. We have tools in place for case managers to take a proactive approach and intervene in a manner tailored to an individual's needs. These interventions benefit public safety as well as help the individual stay stable and successful in the community."
Making data and technology easily accessible
Dashboards pull data from sources including the Iowa Corrections Offender Network (ICON), a case management system that has subsystems for areas including medical data and critical incidents. Licensed dashboard users can access reporting views from the nurse or case manager level all the way to statewide comparisons.
Knowing many staff roles would use these dashboards, SAS developers built them to be simple and intuitive. "SAS took a new project some would interpret to be cumbersome and scary, and they made it fun and easy," says Fineran. "Instead of scary, it was more like, 'Hey, this is a super cool thing we're doing – what else can we do with it?'"
To get past initial aversion to learning new technologies, the department created an internal marketing campaign starting with the "why" behind it. "We focused on why it's going to be beneficial, help them do their jobs, make their day-to-day more efficient, and make our community, staff and prisons safer," Skinner says.
The Iowa DOC also launched an internal steering committee composed of leader-nominated individuals to develop guiding principles and expectations. "Those need to be boots-on-the-ground, community-based corrections folks who help direct how the tool is used," Fineran says.
---
Our goal is to create safer communities and reduce victimization, and data puts us on the right path.

Dr. Beth Skinner

Director

Iowa Department of Corrections
---
Increasing department productivity and public safety
The Iowa DOC can better answer questions about what's happening in the prisons, whether it's state legislators, government agencies, victims' rights advocates, family members of the incarcerated or other members of the public who are asking.
"We're in a world now in which people are really starting to appreciate data," Skinner says. "Legislators, for example, are asking us better, more thorough questions to help them make decisions about our budget. With SAS technology, we're moving ahead of the curve."
Additionally, the department's nursing staff can pull the information they need directly from the medical management dashboard, no longer having to rely on Fineran's team to manually produce spreadsheets. And probation and parole officers are using the early alert dashboard to help identify who needs proactive interventions before a re-offense occurs, creating safer communities.
"The dashboards have created so many efficiencies where we absolutely needed them," Fineran says. "What would have taken us hours or days to pull can now be accomplished within a matter of minutes or seconds."
The Iowa DOC runs SAS Viya in the SAS Cloud because it needed the solution deployed and providing value quickly. The Iowa DOC can rely on the skills and expertise of the SAS Cloud team to manage the solution, allowing staff to focus on more critical tasks.
Better decisions, better outcomes and greater efficiencies
Within fiscal year 2021, the Iowa DOC's recidivism rate decreased for the first time in seven years. Fineran partially attributes that to the dashboard technology helping the department make better release decisions.
"We're more informed, more careful," Fineran says. "We're identifying the right people for release and better preparing them for re-entry into the community."
With the dashboards in place, Iowa DOC staff began seeing the time-savings and productivity improvements that leadership had touted in the internal marketing campaign. "Staff can spend less time doing administrative work and more time doing their jobs and caring for the people we supervise," Fineran says. "It's exactly what we were looking to achieve."
Iowa Department of Corrections – Facts & Figures

8,400
incarcerated individuals

37,000
individuals supervised in communities

Future dashboard in the works for safer prisons
Believing good decisions come from good data, the department wants to expand its approach and develop additional visualizations and reporting capabilities. Next up: Develop a dashboard similar to the early alert and intervention tool but for prison populations.
"We're working with an advisory group to help look at variables that might elevate people to become more of a risk, so we can intervene and prevent assaults in our prisons," Skinner says. Identified variables will become data elements for SAS developers to use in populating the new dashboard, becoming part of what Skinner calls the department's "culture of data."
Department leaders also are considering other applications for the medical outbreak management dashboard. Although originally designed to deal with COVID, the dashboard can apply to other transmissible disease outbreaks the prisons may need to manage in the future.
"We have a great partnership with SAS, and we'll continue that partnership to keep building upon the foundation we've put in place with these technologies," Fineran says.
Sparking change at a higher level
At the federal level, initiatives such as Justice Counts are working to help policymakers make informed budgetary and policy decisions using criminal justice data. Skinner, a Justice Counts steering committee member, says there is a growing push to look across states and compare specific public safety metrics.
"The SAS dashboards can be a game changer for commissioners, directors and administrators across the country," Skinner says. "If some agencies and departments don't have that technology or that data, they can't see how they compare or how they can improve by seeing what other states are doing."
Getting there takes an investment in time and resources, and Skinner and Fineran both agree it's worth it.
"A lot of times, we build the plane as we fly it in this environment," Skinner says. "It helps to have data in the cockpit so we can make good, informed decisions, especially about what to invest in and what gaps we need to shore up. The endgame is you have information in front of you that can help you meet your mission of safety within your prisons and within your communities."
---
The results illustrated in this article are specific to the particular situations, business models, data input, and computing environments described herein. Each SAS customer's experience is unique based on business and technical variables and all statements must be considered non-typical. Actual savings, results, and performance characteristics will vary depending on individual customer configurations and conditions. SAS does not guarantee or represent that every customer will achieve similar results. The only warranties for SAS products and services are those that are set forth in the express warranty statements in the written agreement for such products and services. Nothing herein should be construed as constituting an additional warranty. Customers have shared their successes with SAS as part of an agreed-upon contractual exchange or project success summarization following a successful implementation of SAS software. Brand and product names are trademarks of their respective companies.