ABBANK Launches Game-Changing Credit Decisioning System to Redefine Lending Processes and Risk Management

Using advanced analytics, the system aims to streamline loan application processing, enhance risk assessment, and elevate customer experience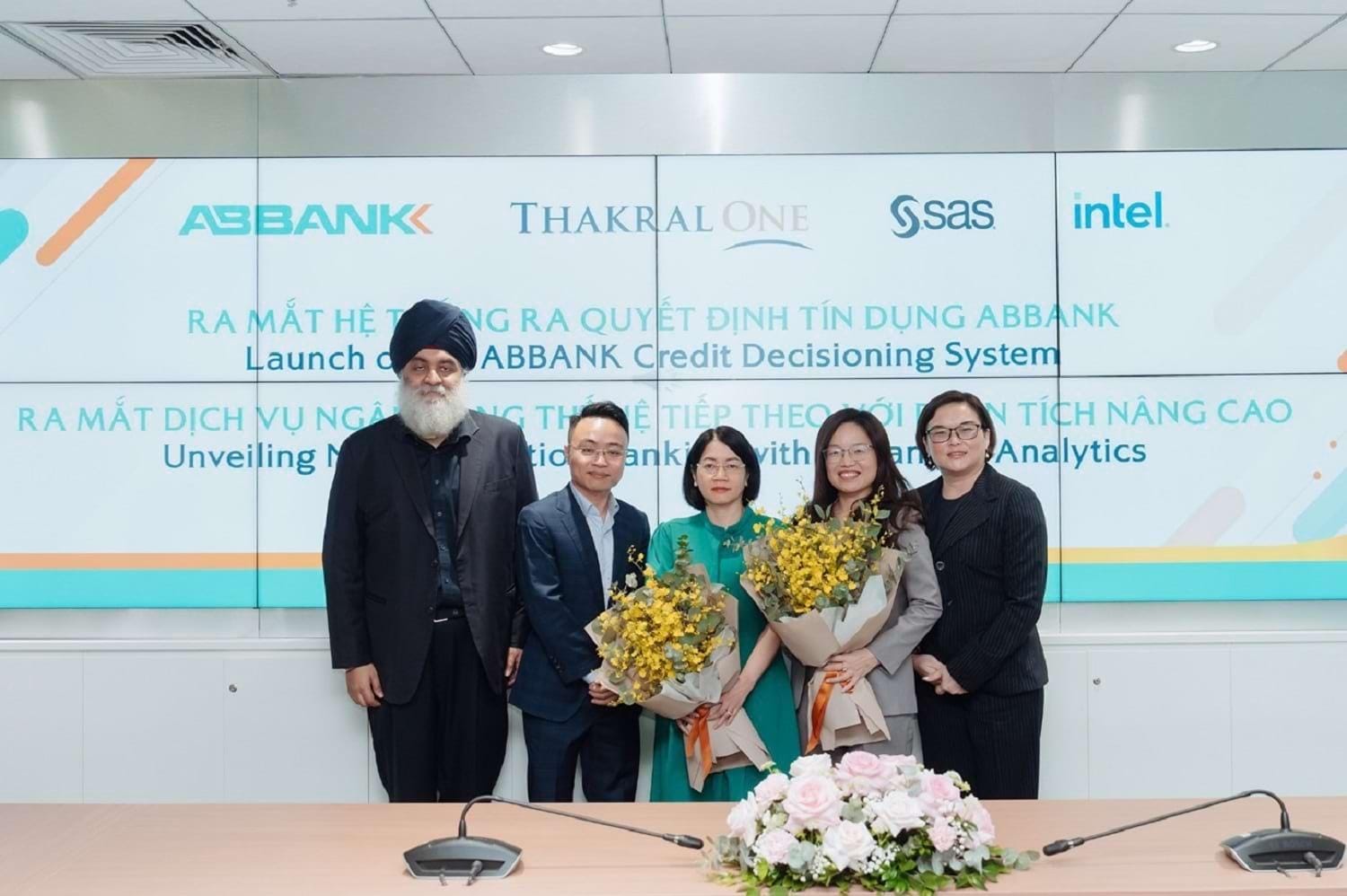 From left, Mr. Bikram Singh Thakral, CEO, Thakral One and Director, Thakral Group of Companies, Mr. Duc Dang, Strategic Partners Development Manager, Intel, Ms. Vũ Thị Hương, Deputy Head of Transformation and Digital Banking Committee, ABBANK, Ms. Lê Thị Bích Phượng, Acting Chief Executive Officer, ABBANK and Ms. Queenie Wong, Director, Customer Advisory (ASEAN), SAS Institute.
HANOI (Jun 15, 2023)
An Binh Commercial Joint Stock Bank (ABBANK), a leading joint stock commercial bank in Vietnam with special focus on retail banking, has announced the launch of its new credit decisioning system. This innovation enables ABBANK to make faster, smarter credit decisions while demonstrating its commitment to customer-centricity.
The system utilizes state-of-the-art technologies, built on advanced analytics, to power risk modelling and decision-making algorithms. This enables more informed credit decisions, reduces turnaround times, and provides an enhanced experience for its customers. It will also ensure responsible lending practices, mitigate potential risks, and maintain a healthy loan portfolio.
The analytics-powered system is one of ABBANK's key initiatives to achieve its 2025 strategic risk management goals. In Vietnam, it is among the few retail banks that have automated its credit decisioning system with an industry-leading solution.
Ms. Le Thi Bich Phuong, Acting CEO of ABBANK shared: "Our new credit decisioning system is an example of our commitment to driving innovation and technology adoption. Our approach revolves around strategic investments, fostering an innovation culture, continuous improvement initiatives, and strategic partnerships. We are confident that this system will enable us to provide our customers with a faster and smarter loan application process while maintaining prudent lending standards and credit risk management principles."
The new credit decisioning system is the result of a collaboration among SAS, Intel, and Thakral One. By collaborating closely with these partners, ABBANK has implemented a system that is efficient, effective, and aligned with the changing needs and expectations of its customers.
To address challenges related to legacy credit origination systems, outdated credit scoring models, and manual processes, ABBANK conducted a thorough assessment of its existing systems and processes. It collaborated closely with SAS and Thakral One to develop a roadmap for modernizing its credit origination systems and processes. This involved leveraging SAS's cutting-edge technologies for risk assessment, decisioning, as implemented by Thakral One's team of experts.
"We are incredibly thankful to ABBANK for giving us an opportunity to implement the SAS Solution to further strengthen ABBank's operational efficiencies in credit risk and scale the Bank's capacity and capability to cater to more customers more efficiently. It has been a great honour to work on this important project alongside the ABBank Team, and we sincerely appreciate the expertise and commitment of everyone involved in bringing this new system to life. We believe that the benefits brought about by this new system will be transformational for ABBANK's retail loan business and inspire further local innovations for positive social impact," says Bikram Singh Thakral, CEO of Thakral One.
The SAS Intelligent Decisioning Solution leverages Intel® Xeon® Scalable processors with built-in AI accelerators and software libraries like the Intel® oneAPI Math Kernel Library that are optimized for performance. Intel technologies enable critical banking systems such as Loan Origination System, CIC H2S System, and ABBANK's Full Data Warehouse – empowering the bank's comprehensive and proactive risk management approach as it generates intuitive reports that aid in informed decision-making by management.
"We are glad for the opportunity to partner with Thakral One on the successful implementation of the SAS Intelligent Decisioning solution for ABBANK. This solution is a game-changer for improving the customer experience in the credit origination process, empowering ABBANK to make better risk-related decisions that ultimately lead to the best possible outcomes for their customers. By enabling ABBANK to leverage valuable insights, we are confident that they will be able to better handle customer needs and exceed expectations. We are committed to ABBANK's success in Vietnam and look forward to more partnership opportunities," said Queenie Wong, Director, Customer Advisory (ASEAN), SAS Institute.
ABBANK intends to expand the credit decisioning system beyond its retail customer segment and also cater to small and medium enterprises – making the most of the system's versatile functionalities while broadening customer reach and improving revenue performance.
About An Binh Commercial Joint Stock Bank
An Binh Joint Stock Bank (ABBANK) was established on May 13, 1993, with the vision of becoming one of the leading commercial joint stock banks in Vietnam focusing on the retail sector.
Pursuing an operational strategy associated with efficiency and sustainability with the motto "putting customer satisfaction at the heart of all business activities", during the nearly 30-year development journey, ABBANK has always been evaluated as a prestigious bank, a dedicated companion, trusted by customers, partners and investors.
In recent years and in the 5-year strategy to 2025, ABBANK has been and will focus its operations and digitize processes to improve the customer service experience, helping customers access banking products and services without having to go to the place to transact.
About Thakral One
Thakral One is a consulting and technology services company focused on value-added bespoke capabilities, enhancing decisions through analytics, and unlocking possibilities in the cloud. The company engages clients collaboratively and believes in grounded, practical outcomes. This approach is possible through partnerships with leading global technology providers. Headquartered in Singapore, the company's pan-Asian footprint covers 16 countries with 1000+ consultants.
In Vietnam, Thakral One specialises in delivering IT services and analytics-driven solutions that help organisations transform in the areas of risk and fraud management (IFRS, AML), data management, business intelligence, and customer experience. The company established its Vietnam presence in 1999 and has evolved to become a trusted partner and technology enabler for esteemed clients in Financial Services, Banking, Telco, and Consumer Products.
About SAS
SAS is the leader in analytics. Through innovative software and services, SAS empowers and inspires customers around the world to transform data into intelligence. SAS gives you THE POWER TO KNOW®.