Optimizing the supply chain with analytics and IoT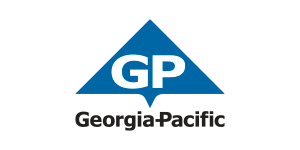 Balancing speed and quality to maximize efficiency and profitability.
10% improvement in overall equipment efficiency
Georgia-Pacific relies on SAS® Viya® on Amazon Web Services to improve equipment efficiency, reduce downtime, optimize shipping logistics and predict customer churn
Early in the COVID-19 pandemic, when people started stockpiling toilet paper and other consumer goods, manufacturers faced a barrage of unique challenges. Beyond grappling with how to protect employees from an invisible and mysterious virus, manufacturers had to work out how to meet surging demand while parts of the supply chain crumbled around them.
As one of the world's leading makers of tissue, pulp, packaging, building products and related chemicals, Georgia-Pacific found itself at the center of this supply chain breakdown. With 73% of US grocery stores reporting empty shelves in April 2020, the company saw demand for toilet paper and many other of its products increase sharply during the height of the pandemic.
Because manufacturers can't build new plants overnight to cope with surging demand, the Atlanta-based company with around 150 manufacturing facilities turned to its tried-and-true optimization mechanism – analytics.
"We used advanced analytics to help increase the productivity of our facilities," says Steven Bakalar, Vice President of IT Digital Transformation at Georgia-Pacific. "During the pandemic, we used analytics to improve our overall equipment efficiency by 10%, which helped us get more products in stores."
For Georgia-Pacific, boosting productivity is only part of its optimization story. As household demand for paper products and cleaning supplies rose during the pandemic, demand for these products dropped at hotels and businesses, which suddenly saw less foot traffic. Again, the company turned to analytics to optimize shipping logistics.
Indeed, Georgia-Pacific's analytics capability was essential during the pandemic. But before the world even heard of COVID-19, the manufacturer had become an expert at using data and analytics to digitally transform its business. This is their analytics story.
---
Our facilities that use these tools have experienced a 30% reduction in unplanned downtime.

Steven Bakalar

Vice President of IT Digital Transformation

Georgia-Pacific
---
Optimizing processes

Georgia-Pacific relies on SAS advanced analytics and artificial intelligence (AI) solutions powered by SAS Viya on Amazon Web Services (AWS).
Roshan Shah, Vice President of Collaboration and Support Center Operations, oversees manufacturing analytics at Georgia-Pacific. He and his team of more than 70 employees scrutinize manufacturing data to look for efficiencies, as even small improvements can translate to millions of dollars in savings.
According to Shah, data volumes at Georgia-Pacific grew by five times over the past year. "Every day we generate about a terabyte of data. All of it goes through our machine learning models to tell us how we can operate better."
One major output of this analysis is optimizing processes. From plywood to corrugated boxes to paper napkins, Shah and his team run more than 15,000 machine learning models to calculate the optimal production settings based on current business needs.
"The advanced analytics enabled by SAS allows us to find the optimal balance of speed and quality to maximize profitability," Shah says. "We're constantly pushing the envelope of what's possible with analytics."
Process optimization doesn't stop there for the manufacturer. With highly complex facilities, complications can arise. Say, for example, step four of a 10-step manufacturing process is disrupted due to wet materials. Machine learning models will recalculate the next-best production process to save products from being downgraded or scrapped altogether.
Elsewhere in facilities, cameras are used on production lines, allowing employees to watch for problems. With SAS, Georgia-Pacific recently began applying computer vision, a form of AI, to these cameras. This technology automatically detects problems, allowing for corrective action to be taken.
---
The advanced analytics enabled by SAS allows us to find the optimal balance of speed and quality to maximize profitability. We're constantly pushing the envelope of what's possible with analytics.

Roshan Shah

Vice President of Collaboration and Support Center Operations

Georgia-Pacific
---
Preventing downtime
Pandemic or not, downtime plagues manufacturers. Georgia-Pacific also has a solution to reduce downtime, thanks to SAS.
Using real-time data from 85,000 vibration sensors, Shah and his team can intervene early when their calculations predict an increased likelihood of part failure or electrical problems. By combining this information with historical data on asset performance, they can inform machine operators what to change to optimize the life of the asset.
Automation capabilities of the SAS platform also help reduce downtime. The company receives alerts when something like a bearing, motor or valve is likely to fail, allowing it to bundle those repairs into a planned maintenance event. Repairing machinery in a controlled environment also allows technicians to operate more safely and efficiently.
"Before we began using these tools, our technicians spent a majority of their time looking for assets that were either failing or about to fail. Now they spend that time fixing problems instead of searching for them," Bakalar says. "It's a dramatic change in how they work."
The efficiency gains the manufacturer has seen are impressive. "Our facilities that use these tools have experienced a 30% reduction in unplanned downtime," Bakalar says.
Additionally, building analytic models using today's experienced engineers helps to share knowledge with tomorrow's new hires. "With SAS, we can essentially codify the knowledge that employees would acquire over their careers and use it to get new employees up to speed quickly," Bakalar says.
---
Because SAS makes it easy for people to do their own modeling, it's translated into millions of dollars in value for us.

Tim Berryman

Head of Decision Analytics

Georgia-Pacific
---
Delivering products on time and in full
As a data-driven organization, Georgia-Pacific applies analytics across a wide spectrum of use cases – not just manufacturing. On the commercial side, the company uses analytics to recommend pricing, determine the best day of the week to ship a certain item, and predict customer churn.
One area that particularly excites Tim Berryman, Vice President of Decision Analytics, is the Internet of Things (IoT). Many Georgia-Pacific manufacturing facilities are in remote locations, where high-speed connectivity often isn't reliable or cost-effective. As such, the company uses SAS for edge computing – processing that takes place at or near the "edge" of a network, where IoT data is generated or collected – which speeds up decisioning.
IoT also plays a role in creating value for our customers. For example, by putting IoT sensors in smart dispensers, Georgia-Pacific can predict stockouts of items like soap and paper towels before they occur, which improves the customer experience and reduces the cost to inspect restrooms to see if they are out of stock.
On-time and in-full (OTIF) delivery is another key focus area for the Decision Analytics group. Supplying some of the world's biggest retailers with consumer packaged goods brings huge commercial opportunities, but also stiff penalties for late or incomplete deliveries.
Yet again, analytics drives this capability at Georgia-Pacific. To ensure OTIF deliveries, Berryman's team uses SAS to detect if an order is likely to be delivered late. When this happens, analysts can develop algorithms to quickly find a solution, and automate the flow of insights back to key stakeholders so the company can deliver on its contracts.
"These tools allow us to catch supply chain issues early and calculate the best course of corrective action to ensure deliveries arrive on time and in full," Berryman says.
Georgia Pacific – Facts & Figures

30,000+
employees worldwide
150
manufacturing facilities in the US
Atlanta, Georgia
headquarters
Empowering frontline employees and saving millions of dollars
Accessibility is a core reason why Georgia-Pacific selected SAS Viya. Not only does this manifest in data scientists being able to code in multiple languages, it also means people who aren't necessarily analytics experts can benefit from the powerful technology as well.
With infinite analytics projects and finite resources, Georgia-Pacific believes strongly in empowering citizen data scientists – people who create analytical models but whose primary job functions are outside the field of analytics. Georgia-Pacific has many employees with deep domain knowledge but little analytics experience. With the simple user interface and automated AI of Viya, anyone with a curious mind can be trained to make faster, better decisions.
"The Viya platform enables us to easily train employees on how to use machine learning models," Berryman says. "They can quickly crunch billions of records and start making more valuable business decisions."
"We also have a strategic partnership with AWS, and the combination of SAS with AWS provides us the necessary flexibility and scalability to put analytic capabilities in the hands of users across the organization," Bakalar adds.
"Previously, these projects would have involved a large data science effort within Georgia-Pacific or handing it off to outside partners," Berryman says. "Because SAS makes it easy for people to do their own modeling, it's translated into millions of dollars in value for us." 
Partnering with the SAS Education team, Georgia-Pacific has trained more than 150 citizen data scientists, a number that is expected to grow as the company continues to integrate analytics into its operations. For Bakalar, this uplift benefits the company and consumers alike.
"For us, ticking up productivity translates into tremendous value," Bakalar concludes. "And for consumers, whether it's lumber going through a kiln or paper towels coming off a production line, the manufacturing quality is better and there's more supply. Ultimately, SAS helps us make better products and get them to market faster."
Photos courtesy of Georgia-Pacific.
---
Los resultados que se ilustran en este artículo son específicos a las situaciones, modelos de negocios, datos aportados y entornos de cómputo en particular que se describen aquí. Cada experiencia del cliente de SAS es única basada en variables de negocios y técnicas y todas las declaraciones se deben considerar no típicas. Los ahorros, resultados y características de desempeño reales variarán dependiendo de las configuraciones y condiciones de los clientes individuales. SAS no garantiza ni augura que todos los clientes lograrán resultados similares. Las únicas garantías aplicables a los productos y servicios de SAS son aquellas que se estipulan en las declaraciones de garantía explícitas en el contrato por escrito relativo a dichos productos y servicios. No se debe considerar que nada de lo aquí mencionado constituye una garantía adicional. Los clientes han compartido sus éxitos con SAS como parte de un intercambio contractual convenido o resumen de éxito de proyectos tras una implementación exitosa de software de SAS. Los nombres de marcas y productos son marcas comerciales de sus respectivas compañías.