Calculating credit risk in half the time
To stay compliant with Basel regulations, Yapi Kredi relies on SAS® to handle millions of data sets
In the past, banks in Turkey set their own risk ratings, deciding on what basis they would make loans. Basel regulations changed that, requiring banks to disclose the finer points of how they calculate risk-weighted asset ratios.
Now we have much more control of our data and are less dependent on external sources, compared to the past.
Seda Ikizler
Group Director
Compliance with these standards requires full transparency of both data and the modeling process, complete with an audit trail. It's an undertaking that requires a fundamental restructuring of a bank's loan origination and credit risk modeling systems and processes.
To transition from Basel II to Basel III, Yapi Kredi relied on SAS Regulatory Risk Management to help manage its risk program. The single, integrated platform supports Basel III compliance from extraction and aggregation of source data through analysis and reporting.

Big job, tight turnaround

Basel compliance is complex and data-intensive, especially for a bank like Yapi Kredi. With millions of customers and almost 1,000 branches, it's one of the biggest banks in Turkey. Yet the bank had less than a year to transition to Basel III and ensure its model and validation processes were up to spec. To meet the deadline, it needed an experienced consulting partner.

"We were looking for a company with proven global experience in this field, a company we could contact directly and work with closely in Turkey," said Seda Ikizler, Group Director for Yapi Kredi. 

After choosing SAS, the next step was determining how to aggregate its data. Beyond the obvious challenges including international partnerships in Austria and Italy, it needed different data configurations that followed the privacy rules and other local regulations of those countries.

Fortunately, SAS offered a single system where Yapi Kredi's analysts could consolidate, manage and report risks for multiple jurisdictions – regardless of language or currency – on both a scheduled and ad hoc basis.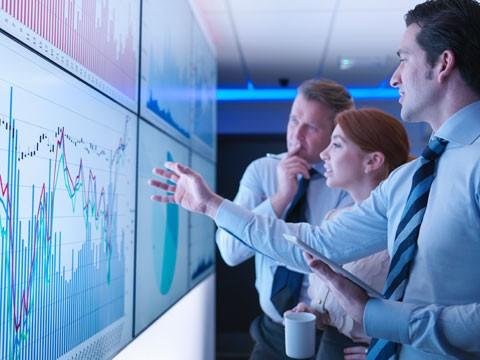 "The SAS solution provided us with a very flexible structure that enables us to make transactions easily in three different sets of rules," explains Mehmet Ali Memiş Director of Yapi Kredi.
Complete transparency

With SAS, Yapi Kredi has complete transparency throughout its entire modeling process. There are no hidden system files, and Yapi Kredi can archive all of its data and intermediate calculation steps, then access, audit and validate data as needed for internal or external review requirements.

"When we want to make an inquiry on our data or consider the points to be improved, we can do so in a much more reliable and efficient way," says Memis.
Additionally, SAS Regulatory Risk Management lets Yapi Kredi report on risk transactions at the most granular level of individual loans. 

"Now we have much more control over our data and we're less dependent on external sources, compared the past," says Memis. "Our assumptions are much better. Our control processes can be completed more easily."

Yapi Kredi can also perform operations a lot faster. For example, the bank analyze credit for millions of customers – nearly 30 million data sets. But thanks to SAS, it reduced the duration of this process by half.
The time employees spend on the IT side of the project has also decreased significantly with the SAS credit risk solution.

"Normally, a substantial part of Basel rules are handled by a bank's IT department," says Memis. "But that increases maintenance costs, project risk and extends the duration of the project. However, in the SAS credit risk solution, credit-collateral is optimized, and Basel rules are embedded in the solution. Thus, the migration costs to implement these regulatory changes decreased significantly. Optimized assignment of credit collateral also reduced credit risk."
SAS Regulatory Risk Management enabled Yapi Kredi to transition from Basel II to Basel III quickly and without disrupting the business. Yapi Kredi completed the transition process from Basel II to III – initially estimated to take two years – in just eight months. In addition, Yapi Kredi now does all its legal reporting on SAS solutions, reducing the time required to calculate 30 million data sets for credit risk by half.
Challenge
Transition to Basel II and Basel III regulatory compliance in a fast, flexible way.
Store all credit and risk data efficiently in one place and produce automated regulatory reports.
Maintain a full audit trail and complete transparency of the modeling process.
Solution

Benefits
Establish an easy-to-use, self-service reporting environment that lets risk analysts respond quickly to inquiries from regulators.
Integrate risk management into daily business activities, while satisfying a complex mix of Basel II and III requirements across global operations.
Establish a single system where analysts can consolidate, manage and report risks for multiple jurisdictions on both a scheduled and ad hoc basis.

The results illustrated in this article are specific to the particular situations, business models, data input, and computing environments described herein. Each SAS customer's experience is unique based on business and technical variables and all statements must be considered non-typical. Actual savings, results, and performance characteristics will vary depending on individual customer configurations and conditions. SAS does not guarantee or represent that every customer will achieve similar results. The only warranties for SAS products and services are those that are set forth in the express warranty statements in the written agreement for such products and services. Nothing herein should be construed as constituting an additional warranty. Customers have shared their successes with SAS as part of an agreed-upon contractual exchange or project success summarization following a successful implementation of SAS software. Brand and product names are trademarks of their respective companies.