Advanced analytics helps hospital put patients at the heart of improved outcomes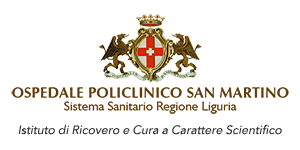 Analyzing data with a multidisciplinary approach improves patient care and capacity management.
Integrated analytics
unlocks better health outcomes
San Martino Polyclinic Hospital uses SAS® Visual Analytics on SAS® Viya® for more patient-focused operations and decisions
Data is a powerful tool in health care. In addition to diagnostic support, data can help providers identify trends and changes in the patient population, provide direction for facility or service improvements, determine future resource allocations, and reveal the true costs of care, leading to a greater understanding of nationwide health care costs. For more than 30 years, San Martino Polyclinic Hospital providers and administrators have relied on data-driven health care decisions. But now the hospital is changing its analytical method.
San Martino Polyclinic Hospital in Genoa, the capital of Italy's Liguria region, is one of the largest and most important hospital and research complexes in Europe. Named one of the World's Top Hospitals in 2022 by Newsweek, San Martino Polyclinic has long been a leader in health care. As a national center of excellence, it provides undergraduate and graduate courses for the Faculty of Medicine of the University of Genoa.
In the past, San Martino used vertical data analysis – the data, and therefore the insights, were limited to and organized by clinical departments, such as oncology, cardiology, hematology, neurology, etc. Today, the hospital has switched to using cross-sectional analysis, making it possible to account for all processes affecting the patient, including post-discharge monitoring and treatment.
The expected result? A patient-first approach with tailored care pathways based on holistic health insights. The new method also allows for integrating recommendations from the scientific community's current research and more detailed data collection from the patient post-discharge.
---
With a multidisciplinary approach, we can cross-reference the data with the new pathways with a view to improvement, and see across the operating units that will affect the patient. This is how we field the necessary resources based on real needs.

Francesco Copello

Director of Operational Control and Management Unit

San Martino Polyclinic Hospital
---
Improved capacity management
According to Francesco Copello, the Director of the Operational Control and Management Unit, the hospital has a lengthy relationship with analytics. "In the mid-1990s, I created some of the first analytics reports," Copello says. "In 2002, we published our first publicly available reports on the internet. We have been using data to monitor activities and decide on the appropriateness, efficiency and effectiveness of health care delivery. And for the past few years, we have extended analytics into planning, especially for budget management and expense planning."
Additionally, San Martino Polyclinic can now improve patient care and capacity management, including medical resources, staffing and beds.
With cross-departmental analysis, the waiting lists supply the primary information. Within those lists, priorities for intervention are identified based on pathologies and emergencies, as well as according to more extensive data such as the pathology's expected hospitalization time.
Equity of access
When it comes to determining the average patient length of stay in the hospital, the picture is likely to be unrealistic. Many times, for example, some stays seem extremely long and negatively affect the overall average length of stay in the ward.
With a cross-departmental view, however, it's always possible to know whether a patient stayed in the hospital because of critical internal organizational issues or to receive a specific treatment. Using transparent and explainable data also makes it possible to do qualitative analysis on equity of access, with a view to improving hospital services.
San Martino Polyclinic Hospital – Facts & Figures

55,000
annual hospitalizations
8 million
specialist services per year

Accurate reports and evidence space
In the field of oncology, for example, doctors can now view dashboards from across the organization, making it possible to check the actual population health status split by pathology in near real time. It is important to know the number of patients related to the pathology, how many hospitalizations they've had, how many and what chemotherapy treatments they have faced, the number of surgeries and the related timing, and so on.
These analyses result in meaningful reports that enable the hospital to adhere to high international standards of evidence-based medicine.
"We realized that more and more doctors and professionals in the various operating units were using the reports not only for operational monitoring and budgeting, but also for internal unit evaluations," says Copello. "These easy-to-access reports helped evaluate unit efficiency and performance and create new insight into productivity, such as activities related to the health care delivery of their unit."
With the low-code/no-code environment of SAS® Viya®, doctors can access dashboards and reports without any programming or technical expertise. The drag-and-drop functionality allows users without coding knowledge to create interactive reports and data visualizations to get the information they need to care for patients.
"So adding SAS Visual Analytics on SAS Viya was the natural evolution," says Copello. "Data governance and model setup will remain with my unit, of course, but doctors can now autonomously browse the dashboards and query the data to make their own assessments."
Monitoring oncology patients
Having a cross-departmental approach on post-disease outcomes is crucial for making the best patient-focused decisions.
"Since 2011 we have provided oncology reporting, which includes monitoring and analyzing oncology cases and analyzing outcomes at a distance, such as the Kaplan-Meier survival curve, the supply of chemotherapy and antineoplastic drugs, and numerous other variables that make our analyses increasingly rich – and complex," says Copello.
At this stage, the ability to cross-reference data with the National Health Service, the region and neighboring regions is of great importance. Having information on survival rates is not enough – it's critical to understand recurrence trends, how many people need further surgery or additional cancer therapies, what additional treatments are called for, and what conditions ensure the most successful outcomes.
"I have to say with some pride that, with SAS Viya, we now have a very broad measurement of outcomes split by pathology, operator and operating unit," says Copello. "We are not only talking in terms of patient survival, but also in terms of re-operations (surgeries), new hospitalizations and new therapies needed. With a multidisciplinary approach, we can cross-reference the data with the new pathways with a view to improvement and see across the operating units that will affect the patient. This is how we field the necessary resources based on real needs."
Without proper data analysis, none of this would be possible. Once again, analytics has proven to be an excellent ally for a better, increasingly innovative and human-centered future.
---
Los resultados que se ilustran en este artículo son específicos a las situaciones, modelos de negocios, datos aportados y entornos de cómputo en particular que se describen aquí. Cada experiencia del cliente de SAS es única basada en variables de negocios y técnicas y todas las declaraciones se deben considerar no típicas. Los ahorros, resultados y características de desempeño reales variarán dependiendo de las configuraciones y condiciones de los clientes individuales. SAS no garantiza ni augura que todos los clientes lograrán resultados similares. Las únicas garantías aplicables a los productos y servicios de SAS son aquellas que se estipulan en las declaraciones de garantía explícitas en el contrato por escrito relativo a dichos productos y servicios. No se debe considerar que nada de lo aquí mencionado constituye una garantía adicional. Los clientes han compartido sus éxitos con SAS como parte de un intercambio contractual convenido o resumen de éxito de proyectos tras una implementación exitosa de software de SAS. Los nombres de marcas y productos son marcas comerciales de sus respectivas compañías.