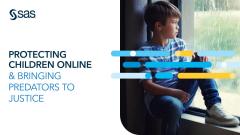 ebook
Protecting Children Online and Bringing Predators to Justice
Empowering Law Enforcement
---
About this eBook
In the digital age, it is becoming increasingly difficult for law enforcement to combat the rising tide of child sexual exploitation. While the volume of reports skyrocket, police resources remain static, and the complexity of cases result in time consuming investigations. Harnessing technological capabilities can allow police forces to eliminate backlogs, catch offenders faster and reduce the impact of distressing cases on officer wellbeing, to better protect children online.
In this eBook, you can learn more about:
Key challenges for CSE teams
How technology can help
The SAS solution for CSE
Data for policing in practice: case study
 
To learn more on how SAS UK works across Law Enforcement visit our page, here.