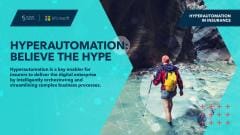 eBook
HYPERAUTOMATION IN INSURANCE
Empowering insurers to deliver the digital enterprise with hyperautomation
---
As market dynamics change, insurers are pivoting away from competing on price and renewing their focus on customer experience and product innovation. To get new products to market quickly and build seamless customer journeys, automation is vital.
However, today's automation tools struggle to handle the complex, non-linear processes that core insurance workflows depend on, which is why insurers need to shift to a new paradigm: hyperautomation.
Hyperautomation is the convergence of digital operating systems, workflows, robotic process automation (RPA), and artificial intelligence (AI), to deliver high-value autonomous processes through intelligent decisions.
In this eBook, we'll explore how hyperautomation can help insurers deliver the digital enterprise through autonomous processes with intelligent decisioning at the core of every workflow.