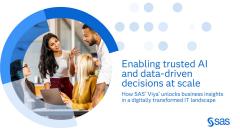 E-Book
Four Winning Strategies for Digital Transformation
presented by SAS
---
Adoption of advanced analytics and AI continues to grow as it carves out a powerful role as a transformer of efficiency and competitive advantage. Organizations are looking for ways to deploy new use cases to help accelerate digital transformation while containing the associated costs.

As organizations have leaned on the IT department to navigate the organization's way through the pandemic, analytics and AI have received greater attention and investment, and will continue to do so during recovery.

Despite successes, organizations are still struggling to develop a coherent analytics and AI strategy. This e-book will dive into the key recommendations for successful organizations to build this strategy to differentiate and create resilience.