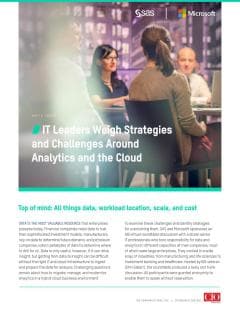 White Paper
IT Leaders Weigh Strategies and Challenges Around Analytics and the Cloud
presented by SAS
---
Discover how IT leaders spanning industries are thinking about the challenges in managing analytics in the cloud.
Is your organization building your data and analytics strategy to take advantage of what cloud is offering? Like most organizations, data and analytics strategies continue to evolve to meet the demands of the business while also utilizing the best technology for your organization.
In the white paper, read a recap of a recent SAS and Microsoft sponsored roundtable with IT, data and analytics leaders. Each participant discusses their business needs, how they are thinking about overcoming the challenges and where they need to refine or update their strategy.
Reading this asset will give you real-world examples of how other organizations are thinking about these challenges to improve and test your data and analytics in the cloud strategy.