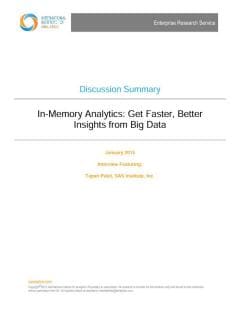 White Paper
In-Memory Analytics: Get Faster, Better Insights from Big Data
---
The adoption of in-memory analytics is growing. It can enable organizations to quickly uncover insights and do more with the data they already have.
This QA with Tapan Patel, Global Product Marketing Manager at SAS, provides a great overview of in-memory analytics, including:
Four key factors driving the adoption of in-memory analytics.
How in-memory processing differs from the traditional approach for analytics.
Key steps to take – and pitfalls to avoid – for customers embarking on an in-memory analytics path. 
Considerations IT should take as they evaluate in-memory processing architecture for analytics.