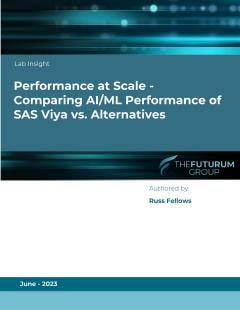 White Paper
Performance at Scale: Comparing AI/ML Performance of SAS Viya vs. Alternatives
presented by SAS
---
SAS asked The Futurum Group to independently analyze and review the performance results of SAS Viya and several leading commercial and open source AI/ML alternative options. Together with The Futurum Group Lab, the SAS engineering teams ran more than 1,500 tests across different Microsoft Azure Cloud architectures using identical instance types to provide accurate comparisons.
Here`s what they found:
SAS Viya is, on average, 30 times faster than the competition in performing tasks expected of modern AI platforms.
Compared with alternatives, working in SAS Viya can lower cloud operating costs by 86%.
SAS Viya is the only platform that scales beyond 300 million data observations without failing or losing performance.
See what`s behind these numbers and read the full Lab Insight Report.