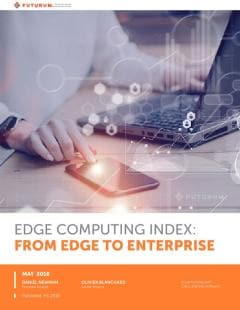 White Paper
Edge Computing Index: From Edge to Enterprise
presented by SAS
---
In late 2017, Futurum Research surveyed over 500 North American companies ranging from 500 to 50,000 employees and asked them to share their thoughts about edge computing in 2018 and beyond.
The survey was conducted to identify attitudes toward edge computing, adoption and deployment data. It also investigated investment intent and trends or points of friction related to this topic. All respondents in the survey were in roles of influence for edge computing investment decisions.
This report, sponsored by Cisco and SAS, outlines the findings.