Veľké dáta najlepšie zvláda SAS, v porovnaní Forresteru porazil IBM

Analytická agentúra Forrester označila poradenskú a softvérovú spoločnosť SAS v prediktívnych analýzach veľkých dát za "veľmoc".
Bratislava, Slovensko (22 Jan. 2013) – Softvérová a poradenská spoločnosť SAS sa umiestnila na prvom mieste historicky prvého rebríčka najlepších dodávateľov riešení pre prediktívne analýzy z veľkých objemov dát (takzvané big data), ktoré urobila konzultačná firma Forrester. V hodnotení porazila najbližšieho rivala IBM a nechala za sebou aj ďalšie veľké mená zo softvérového sveta ako sú SAP a Oracle.
V analýze sa uvádza, že spomedzi 10 hodnotených dodávateľov je SAS v prediktívnych analýzach veľkých dát "veľmocou" a "neotrasiteľným lídrom". Forrester definuje prediktívnu analytiku pre veľké dáta ako "softvérové a/alebo hardvérové riešenia, ktoré firmám umožňujú vytvárať, vyhodnocovať a optimalizovať prediktívne modely analyzovaním dát a vďaka tomu zlepšiť výkonnosť podniku alebo zmierniť podnikateľské riziká". V hodnotení analytici posudzovali tri kategórie. Prvou bola aktuálna ponuka produktov, druhou stratégia dodávateľa a treťou jeho zastúpenie na trhu. SAS dosiahol najvyššie skóre v každej z nich.
"SAS, ktorý má 36-ročnú históriu v poskytovaní analytického softvéru, obsadil v tomto hodnotení najvyššiu pozíciu, lebo vynikal vo všetkých hodnotených kategóriách. Nástroj SAS Enterprise Miner sa ľahko používa a dajú sa s ním robiť analýzy v databáze aj v distribuovaných clusteroch, v ktorých sú uložené obrovské objemy dát," konštatuje správa Forresteru.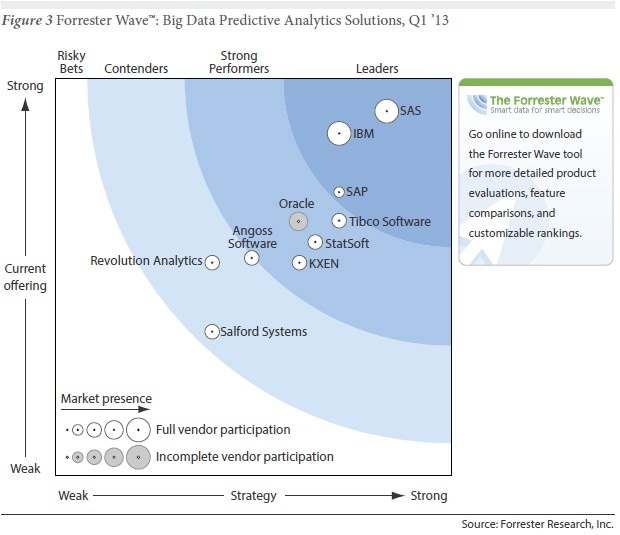 Za lídrov v oblasti riešení pre big data považuje Forrester spoločnosti, ktoré ponúkajú bohatú škálu algoritmov pre analýzy dát, architektúru schopnú zvládnuť nápor veľkých objemov dát a pokrokové prediktívne nástroje pre dátových analytikov.
"Mohlo by sa zdať, že téma big data je pre malé Slovensko príliš veľká. Nie je to však pravda. Použitie techník z oblasti "Big Data" je inšpiratívne nielen technickými možnosťami, ale aj svojimi biznis prínosmi. Aj unás majú organizácie veľké množstvá dát v interných systémoch a môžu ich zbierať aj z externých zdrojov, napríklad z web stránok, z internetových fór či zo sociálnych sietí. Čoraz častejšie sa zamýšľajú, ako tieto dáta využiť, lebo vedia, že efektívna analýza integrovaných dát z rôznych zdrojov umožňuje detailnejšie pochopiť potreby zákazníka, skrátiť uvedenie nových produktov či služieb na trh a poskytovať nové, kvalitnejšie služby," uviedol Dušan Krcho, Solution Architect v spoločnosti SAS Slovakia.
SAS a všetky ďalšie názvy produktov a služieb SAS Institute Inc. Sú registrovanými ochrannými známkami SAS Institute Inc. v USA a ďalších krajinách. ® označuje registráciu v USA. Ďalšie značky a názvy produktov sú ochrannými známkami konkrétnych spoločností.© 2013

O SAS-e

SAS je popredným poskytovateľom riešení v oblasti biznis analytiky a odborných služieb. SAS, ktorý má viac ako 13 000 zamestnancov vo viac ako 400 pobočkách v 56 štátoch sveta, využíva celosvetovo viac ako 60 000 organizácií pre zlepšenie svojej výkonnosti pomocou spracovania obrovských objemov údajov, čo vedie napr. k rýchlejším a presnejším strategickým podnikateľským rozhodnutiam, ziskovejším vzťahom so zákazníkmi a dodávateľmi a dodržiavaniu regulačných požiadaviek. Od roku 1976 dáva SAS svojím zákazníkom na celom svete THE POWER TO KNOW®. Na Slovensku má SAS svoje zastúpenie od roku 1995 a špecializuje sa hlavne na finančný sektor, telekomunikácie a utility. Medzi najvýznamnejších klientov SAS-u na Slovensku patrí napr.: VÚB, a.s.; UniCredit Bank Slovakia, a.s.; Slovenská Sporiteľňa, a.s.; Prvá Stavebná Sporiteľňa, a.s.; OTP Banka Slovensko, a.s.; Allianz – Slovenská poisťovňa, a.s.; Union poisťovňa, a.s; Slovak Telekom, a.s.; U.S.Steel Košice, s.r.o. a iné. Viac informácií nájdete na ;www.sas.com/slovakia.