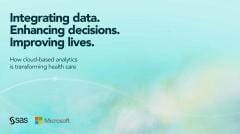 eBook by SAS and Microsoft:
Integrating data. Enhancing decisions. Improving lives.
How cloud-based analytics is transforming health care
---
Fragmentation, compliance, data integration, and IT skills shortages – these are challenges that health care organisations of all shapes and sizes face when they try to get the data insights they need. 
This whitepaper highlights specific customer examples demonstrating how SAS and Microsoft have already helped leading organisations overcome these challenges. It demonstrates how we helped customers to develop trusted and efficient research environments as well as clinical and operational decision support via analytics and AI in the cloud.