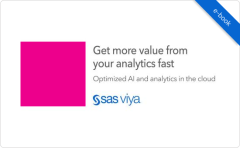 eBook
Get more done with a faster, more productive AI and analytics platform
---
In the cloud computing world, performance is literally money: cost control, revenue and time to value.
Establishing the most performant foundation for your organization is critical to meeting current needs and preparing for the future.
A benchmarking study conducted by The Futurum Group shows that SAS® Viya® is a more cost-performant and cost-conscious analytics platform available to enterprise cloud users. According to the study, the SAS "AI and analytics platform is on average 30 times faster, 86% more cost-effective and has superior scalability compared to leading commercial and open-source alternatives."