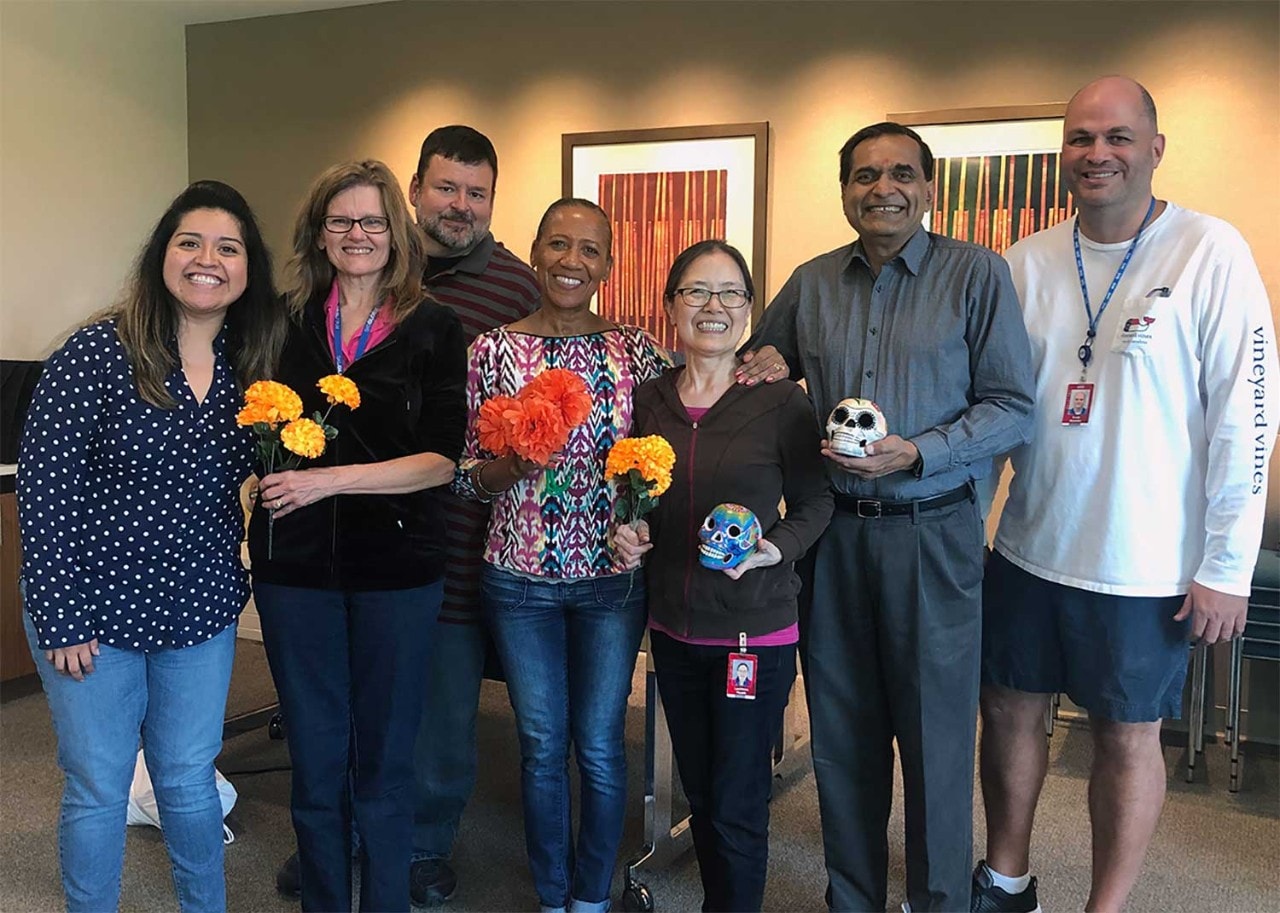 Celebrating Multicultural Backgrounds
Supporting All Cultures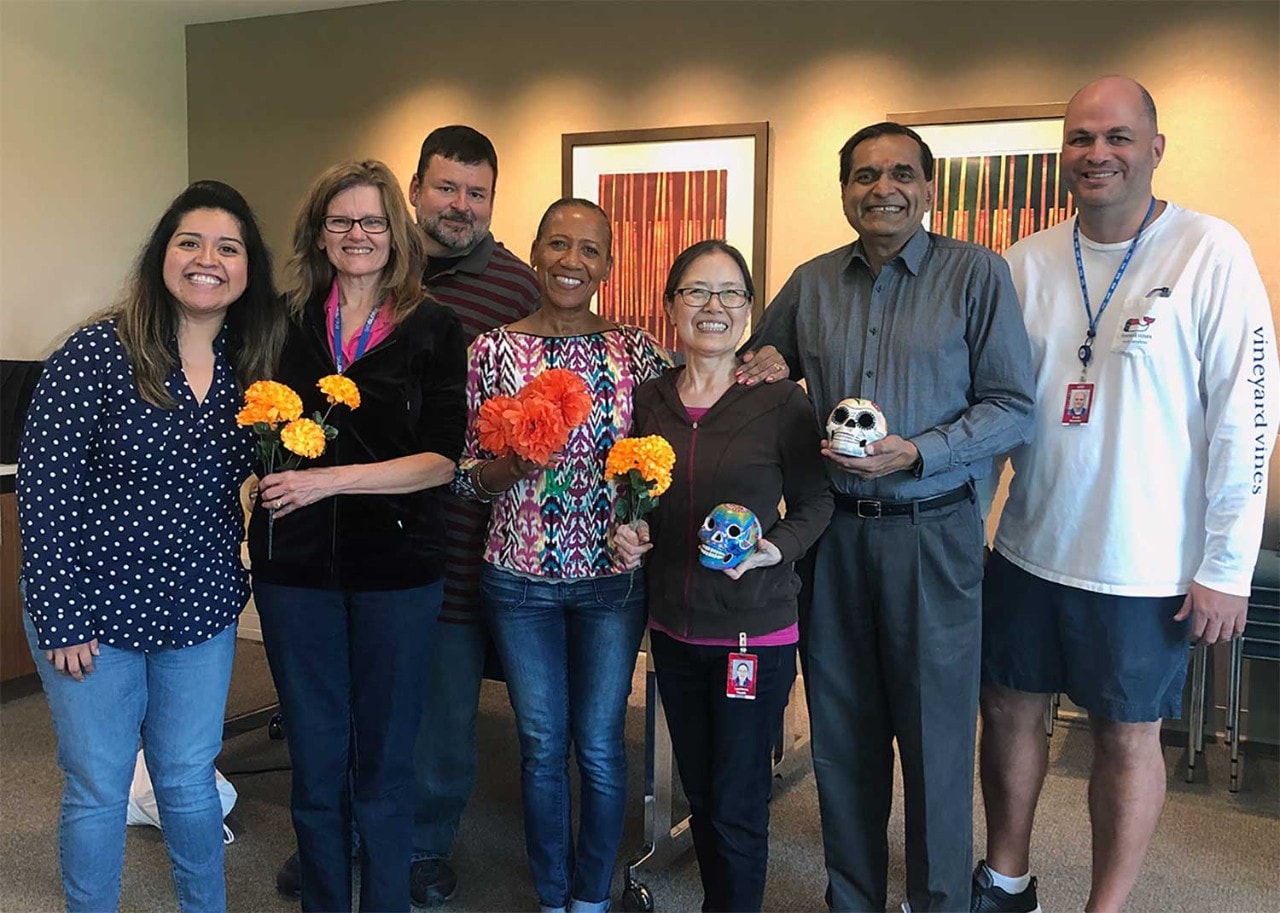 When we combine our different nationalities, cultures and identities, we create an undeniable synergy – where the whole becomes greater than the sum of its parts. We can be authentic and true to who we are in all aspects of our work and life.
Having complex conversations about race and equity
Complex, authentic conversations about race are difficult and uncomfortable. SAS partnered with the University of Southern California's Race and Equity Center to host interactive live webinar sessions. Here employees learned about engaging in coura­geous, productive conversations about race and disrupting and dismantling racism in all forms. The sessions focused on understanding race as a social construct, learning about the consequences of avoidance and the benefits of making race salient in workplace conversa­tions, policies and practices. Employees also obtained strategies and tips on how to make conversations about race less uncomfortable, more productive and less destructive. These sessions were one step toward fostering an antiracist work envi­ronment, where all employees are treated with dignity and respect.
Fostering race, equity and employee engagement
At SAS, we are continuing to recognize, self-educate and remain curious about the past, since it is our greatest teacher on how to create a better, more equal and inclusive future.
While we've made strides, we recognize that there's still a lot of work to do to not only hire more Black/African Americans and underrep­resented people of color, but to develop and retain diverse talent by fostering an environ­ment that is truly inclusive of everyone.
One way SAS is cultivating diversity and inclu­sion in our workforce and community is through partnerships our employee inclusion groups such as the SAS Black Initia­tives Group (BIG) and SAS International Connection (SASIC).
Black Initiatives Group (BIG)
The mission of BIG, one of our seven SAS Employee Inclusion Groups, is to empower Black employees to bring their full selves to work, to highlight their contributions and talents and to inspire young Black talent to pursue careers in STEM.
BIG acknowledges the limitations of the term "Black," and extends its mission to encompass employees who identify as Black, African, African American, West Indian, Copper Skinned, Indigenous, American Indian, Afro- Latinx or of African descent. In addition, BIG encourages all employees – including those who do not identify with any of the above identities to participate in BIG to learn, grow and progress racial equity and inclusion.
BIG has been instrumental to enhancing SAS' culture by fostering an environment where Black and non-Black employees can have these difficult conversations in a productive way. Every week since June 2020, BIG hosts an open, virtual meeting – famously called "BIG Friday" – that addresses topics like company happenings, industry trends, career develop­ment and world events, all from the Black perspective. Several hundred employees attend these live, weekly sessions. And throughout the week, the dialogue continues.
SAS International Connection (SASIC)
With employees in nearly 60 countries around the world, diversity is our strength. We embrace individuality and seek out people who can add something unique to our culture.
Established in 1995, SAS International Connection is based on an innovative but simple idea: to pull together the international backgrounds and talents of SAS employees. More than 25 years later, this group is still dedicated to fostering, supporting and promoting international inclusiveness at SAS.
SASIC not only helps promote the various cultures represented at SAS, but also provides cultural resources that have greatly supported the company's globalization efforts. The group's members have aided many departments, including Human Resources, Marketing, Documentation, Research and Development, and Education. Specific efforts have included translation of documents and assistance with testing and debugging in different languages, as well as cultural understanding and support.
SASIC hosts events that highlight global holidays and celebrations including Lunar New Year, Diwali, Holi, Ramadan, Día de los Muertos, and more!
United in STEM Diversity Internship Program
Our summer internship program is one intentional way that SAS infuses new ideas and energy in the workforce. In order to ensure diverse representation, we launched our first diversity internship program in 2008, now called United in STEM: SAS Diversity Internship Program. United in STEM is designed to provide a valuable work expe­rience for students enrolled in an accredited STEM-related degree program who identify as neurodivergent; Black or African American; Latinx; Indigenous and other historically underrepresented students of color; women; and students affiliated with the US military (service members, veterans and military spouses). This program provides the opportunity to work in an inclusive environment, receive mentorship and coaching, and work on meaningful projects that contribute to SAS' success.  Learn more about SAS' diversity outreach initiatives and the United in STEM Internship Program for university students who identify as an underrepresented student of color.
SAS employees decorate lanterns for Chinese New Year.
SAS International Connection hosted a Diwali event for employees with diya (oil lamp) painting, mehndi (henna) and lots of traditional snacks.