SAS voor tiende opeenvolgende keer benoemd tot leider in datakwaliteit

Huizen, 3 december 2015 - SAS is door Gartner uitgeroepen tot leider in het Magic Quadrant for Data Quality Tools. Dit is de tiende keer dat de analist SAS heeft uitgeroepen tot leider in dit kwadrant. De positie van SAS is gebaseerd op de 'completeness of vision' en 'ability to execute'.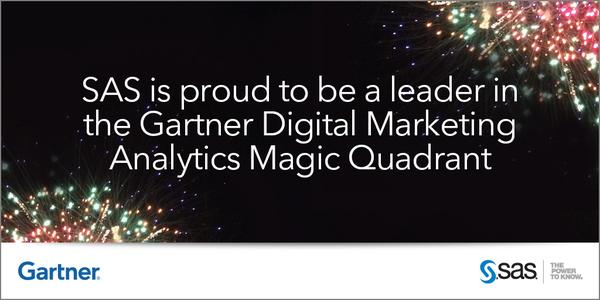 Gartner beoordeelt leveranciers niet alleen op basis van de breedte of functionaliteit van het datakwaliteitsportfolio dat zij in huis hebben, maar ook hoe deze zaken begrepen, beheerd en uitgevoerd worden door medewerkers uit de business.

"Het feit dat we voor het tiende opeenvolgende jaar door Gartner worden genoemd als leider, is een erkenning van onze sterke focus op het ontwikkelen en leveren van hoogstaande oplossingen voor datakwaliteit", zegt Rein Mertens, Principal Business Solutions Manager bij SAS. "Onze toepassingen voor data management en datakwaliteit zijn te gebruiken door zowel IT- als business gebruikers. Zij profiteren niet alleen van betrouwbare data voor het maken van gefundeerde beslissingen, maar tevens van de ondersteuning van de data governance-inrichting en -processen voor datakwaliteitsafhandeling."

Prioriteiten CEO
Uit onderzoek van Gartner blijkt dat de top drie prioriteiten voort CEO's bestaat uit:  customer experience management, digital marketing en business analytics. Om goed te presteren op deze gebieden moeten zij ervan verzekerd zijn dat de belangrijkste informatie die de organisatie heeft over klanten, producten en leveranciers van goede kwaliteit is. Als dit niet op orde is kan dit resulteren in hogere operationele kosten, mogelijke boetes voor het niet compliant zijn met de richtlijnen, verlies van klanten aan concurrenten en minder concurrerend vermogen.

Mertens: "We bieden organisaties met verschillende oplossingen de mogelijkheid data in de gehele levenscyclus optimaal te beheren en gebruiken. Alleen SAS kan data profilen, standaardiseren, matchen en verrijken op de plaats waar het is opgeslagen, of de data zich nu in een (R)DBMs, in-memory, of in een big data-platform zoals Hadoop bevindt. De data hoeft dus niet te worden verplaatst wat ook voor tijdswinst zorgt. Daarnaast kunnen data kwaliteitsprocessen eenvoudig real-time worden aangeroepen."

Verwachte groei
Gartner verwacht dat de markt voor datakwaliteitsoplossingen sterk zal blijven groeien tot een totale waarde van 2,1 miljard USD in 2017 tegen 1,4 miljard dollar dit jaar. Daarmee is het een van de snelstgroeiende markten op het gebied van zakelijke software.
Over SAS
SAS is marktleider in analytics. Met innovatieve analytics, business intelligence en data management software en dienstverlening, helpt SAS klanten op meer dan 75.000 locaties sneller, betere beslissingen te nemen. Al sinds 1976 levert SAS haar klanten wereldwijd 'THE POWER TO KNOW'.