Two supply chain lessons military leaders are learning from the private sector
Demand forecasting and warranty analysis offer significant savings
By Allan Manning
Military organizations are famous for doing things their way. After all, they are different – providing national security and dealing with terrorist threats are not activities commonly found in most commercial businesses. But how different are they really? True, military organizations have some of the most complex supply chains in the world – but so do Walmart, FedEx and Honda.

Additionally, the military's mission dictates that they keep massive fleets of vehicles in a high state of readiness at all times. But again, so do any number of companies that run 24/7 on a global basis: oil and gas production, rail and over-the-road shipping, passenger airlines, and airfreight transportation, to name a few.

Since military budgets around the world, especially in Western Europe, have been on a downward spiral for years, many countries have been forced to take radical measures so that they can continue to carry out their missions. Logistics represents one of the largest monetary outlays for military forces that actively deploy and one of the main areas where even a small percentage in improvement can mean BIG savings.

Fortunately, age-old logistics practices are beginning to change. The military is actively training up-and-coming leaders to run the military more like a business, with the term "efficiency" being used with increasing frequency. Instead of looking at the differences between the military and commercial industries, many military leaders are embracing the similarities and learning from the best practices of the private sector. How have private companies reacted to the relentless pursuit of incremental efficiency gains and the demands to wring out costs in their supply chains? They have invested in advanced analytics techniques and methodologies. Military leaders are now starting to do the same.

From classroom to real-world lessons
A unique program at the Institute for Defense and Business (IDB) in Chapel Hill, NC, helps military organizations embrace new methods of inventory and maintenance planning that are more like those used by the private sector. The program pairs forward-thinking military logistics leaders with business leaders to show them firsthand how commercial companies are using analytics to manage and optimize their supply chains. While profit may be the primary motivating factor for private sector companies, military and commercial organizations share other objectives. They both need to effectively move materiel through the supply chain while minimizing waste and inefficiency.
Every year, select students from the IDB's Depot and Arsenal Executive Leadership Program (DAELP) are nominated to spend two weeks in a corporate residency with a participating sponsor company to learn how billion-dollar companies manage highperforming supply chains. The residency starts with one week of classroom instruction at SAS world headquarters in Cary, NC. The course covers the full range of analytics capabilities relevant to military logistics and sustainment, focusing on case-studies and best practices of organizations in the private sector. Then the residency takes learning on the road during the second week with site visits to select SAS customers to see "operationalized analytics" in action, bringing the classroom concepts to life.

Two areas continue to be the most relevant and elicit the strongest interest from the students:
Using advanced analytics to enhance demand forecasting for supply planning.


Implementing warranty analysis techniques to improve military fleet management.
Demand planning and forecasting: the key to making gains
In any supply chain, resource requirements are predicted through demand planning and forecasting. Most military organizations do use some level of forecasting, but continue to struggle with shortages of essential supplies and with excess inventories of unneeded materiel. In many cases, the processes and technologies they use for demand planning and forecasting are outdated. Using these outdated tools, the existing forecasting process misses the great progress made in recent years to statistical and mathematical techniques that improve forecasting.

In contrast, many commercial organizations have made continuous and significant investments in technologies that embrace the latest statistical and mathematical forecasting techniques for demand planning and supply chain optimization. Both military and commercial supply chains frequently need to forecast consumption for materiel where the demand is intermittent or discontinuous in nature. Often called "lumpy demand," most of the historical data show no demand for each time-period interrupted by sporadic, and often very large, spikes in demand. For example, over the course of 52 weeks, one might see just a handful of weeks with 10-20 units demanded for repair parts, but no demand for these parts for the majority of weeks. Commonly used smoothing or trending models often found in military supply chain planning tend to average this demand, so the forecasted demand ends up being pretty close to zero, meaning this stocking recommendation is inaccurate during weeks when a demand for 20 or more repair parts is received.

Innovations in forecasting techniques – ones that specifically address intermittent demand – allow organizations, both commercial and military, to better plan for and adapt to erratic and inconsistent demand patterns. Instead of viewing average demands for each and every time period, intermittent demand forecasting techniques look at average demand in terms of units and then project specifically when those demands will occur. It's a subtle but important distinction in the way the problem is viewed.

From the multitude of models that have been developed in recent years in the commercial sector, intermittent demand forecasting models are just one type of innovation in demand planning and forecasting that can be used by military logistics planners to improve the efficiency of military supply chain planning. The potential gains are meaningful, providing greater availability for mission-critical materiel and lower inventories of unneeded supply. The results include higher supply chain efficiencies and lower costs, with an average 5-15 percent net improvement in supply chain performance.

In the military, food, water and fuel are always essential, but effective management of the spare parts supply chain for vehicles, aircraft and other equipment can also be a matter of mission success or failure. Given the massive military budgets for supplies and materiel, even a single percentage point improvement in supply chain performance yields substantial and meaningful savings.

Managing military fleets: lessons from warranty management
When it comes to maintaining fleets – aircraft, ships, tanks or trucks – military organizations can learn a great deal from the private sector about warranty and fleet performance management.

To fully appreciate the relevance warranty management has for military fleet managers, let's review product manufacturing and long-term warranty obligations. When a manufacturer provides warranty coverage, it is responsible for the performance, reliability and safety for a meaningful part of the life of a product. For example, an automobile manufacturer might offer a five-year/50,000 mile warranty, which means that during this period, if some component fails, the customer can bring the car back to the dealer for a free repair. But it's not free for the manufacturer, who has to reimburse the dealer for that repair. This cost is felt in the manufacturer's bottom line in a substantial way, affecting earnings and profits.

To minimize costs and risk exposure, commercial manufacturers have spent decades refining the analytic techniques and methodologies they use to monitor, analyze and predict the performance, safety and reliability of their products. By doing so, a company can proactively identify performance or safety issues early in a product's life cycle to avoid defects. Identifying a problem early helps prevent massive costs, risks and wasted production capacity.

In most cases, manufacturers do not warranty military fleet equipment. Instead, the sustainment and repair cost is carried by the military maintenance organization that is responsible for the performance, reliability and safety of the equipment – one might call it "self-warranty" coverage. Additionally, the coverage goes beyond a typical warranty period and encompasses the entire life cycle of each piece of equipment, which is often measured in decades.

Considering the massive fleets military organizations manage, the same techniques used by commercial manufacturers to identify fleetwide performance and safety issues can result in significant cost savings and increased readiness. In fact, best-in-class commercial organizations can detect fl eetwide performance issues up to 70 percent faster than laggards and can experience 73 percent lower warranty costs to maintain and service products.

These massive improvements in fleetwide performance and reliability management have been made possible by innovations in advanced emerging issue detection algorithms. In traditional fl eet management, top-issue lists (in the commercial sector) and top-degrader lists (in the military sector) are used to identify and track those issues that affect the fleet's performance, reliability, maintenance costs and safety.

The problem with these lists is that they are lagging indicators. When something appears at the top of a list, there is a very good chance that it is already a fleetwide problem. More than likely, the military organization has already experienced reduced equipment availability for missions and excess maintenance costs to fix the issue; most troubling, operators have been exposed to risk when using equipment that may be prone to catastrophic failure.

Emerging issue detection, on the other and, uses innovative mathematical, statistical and data mining techniques to sense shifts in fl eetwide performance when the problems are still small and emergent, affecting only a few pieces of equipment instead of an entire fleet.

In the commercial world, an example might be the detection of a risk of brake failure that affects only a handful of automobiles in the market. The manufacturer can take action immediately, rather than waiting until several hundred thousand vehicles have been produced,
sold and used by consumers – possibly putting many lives at risk.

The value to military organizations to likewise identify such performance, reliability and safety issues that affect mission-critical equipment – from aircraft and helicopters to tanks and trucks – is obvious. Recognizing the massive costs military organizations bear for fleet maintenance, in some cases up to 50 percent of a military's total annual budget, DAELP students quickly grasp that even a modest 1 percent reduction in fleet maintenance costs by using fleet management techniques pioneered in the commercial sector could yield substantial and meaningful savings to the military.

The time to act is now
Creating awareness about analytics and implementing educational programs such as DAELP for the next generation of military leaders are the first steps in achieving those potential savings.

"SAS opened my eyes to a world of forecasting and demand planning I had no idea previously existed," commented one student after graduating from a recent DAELP course.
Bio: Allan Manning is responsible for understanding the logistics, sustainment and supply chain challenges in the defense/aerospace sector, and aligning those requirements with SAS' advanced analytic methodologies and solutions. In addition, Manning is often invited to speak at conferences and educational programs and is interviewed by various industry periodicals. He has also participated in defense sector panel discussions.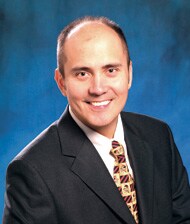 Allan Manning, SAS