Honoring The Military
Enabling Service Members, Veterans and Families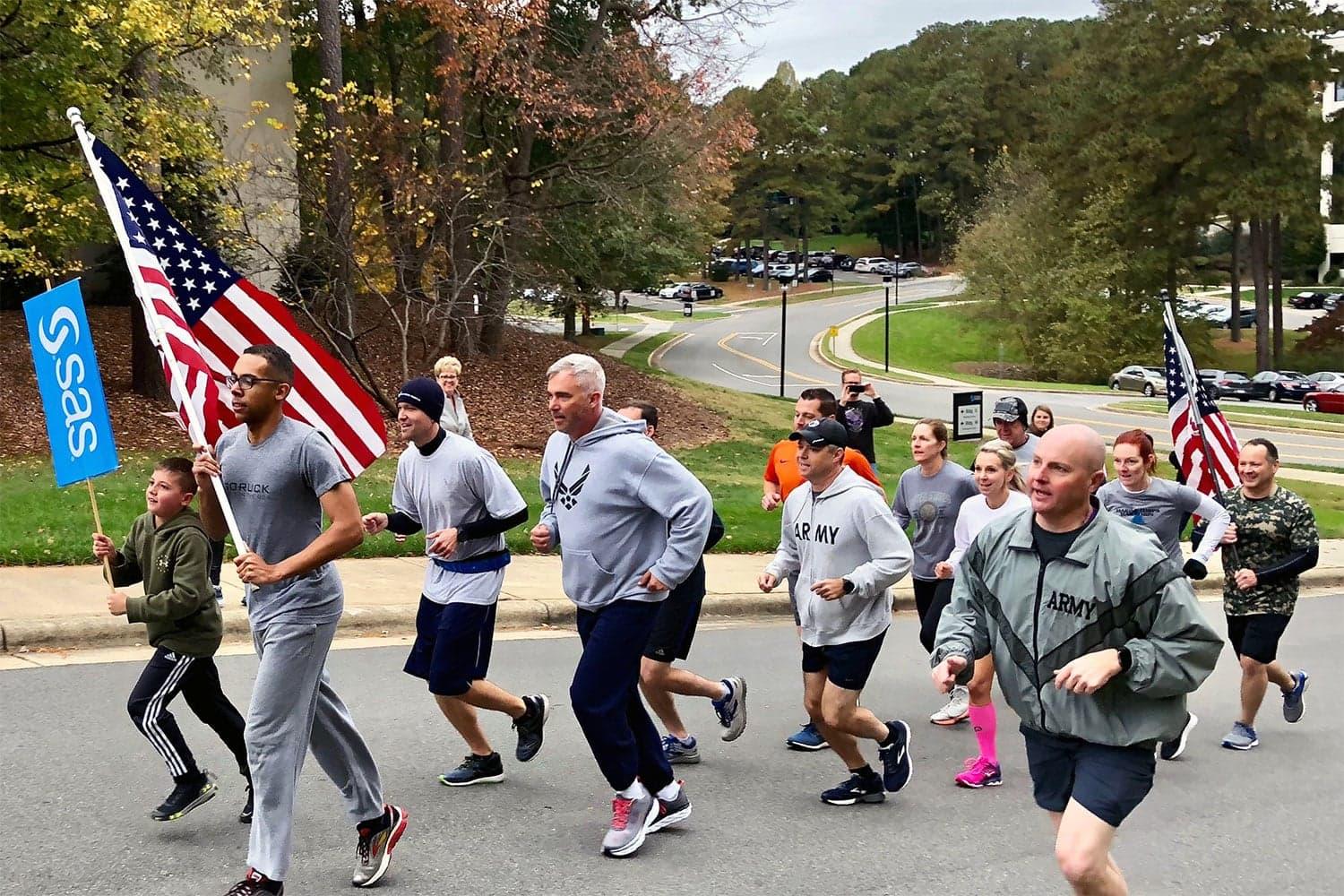 SAS recognizes the valuable skills and experience service members, veterans and military spouses bring to the workforce. We honor their service and sacrifice, and pledge to support them on their career journey.
SAS Military Network
The SAS Military Network (VETS) helps build a sense of community among the SAS military employee population or those who are connected to the military: guard or reservists, veterans, military spouses, dependents, parents or proud supporters. VETS focuses on employee engagement, professional development, and community outreach.
Military Outreach, Engagement & Job Fairs
Approximately 3% of our US employee population identifies as a US veteran and /or is serving in a guard or reserve component. We strive to increase military representation in our workforce, as we value the skills and experiences that veterans and military-affiliated employees contribute to the workforce. We engage in several recruitment and outreach initiatives to fuel our military-affiliated talent pipeline including:
Conference and career fairs
Attending military base events
University engagement
Partnerships with community and service organizations
Strategic sourcing via LinkedIn and professional associations
Engagement and mentorship with SAS employee veterans
Enabling our veterans
More than 200,000 service members transition out of the military each year, adding valuable talent to the civilian workforce. SAS seeks out and appreciates the skills the military community brings to our company and our customers. And we actively support our employees in their transition from the military to the civilian corporate work environment.
In partnership with the Institute for Veterans and Military Families, Veteran Career Transition Program, and Onward to Opportunity, SAS offers free SAS® programming courses and certification program to transitioning service members, veterans, and military spouses to obtain data management positions, which are in high demand.
Supporting the Military
SAS received the Employer Support of the Guard and Reserve (ESGR) Pro Patria award, the highest award that a state committee can bestow on an employer. Our inclusive policies and benefits strongly support military families serving in the Guard and Reserve far beyond what the law requires. SAS received this award in 2008 and is proud to receive it again for our continued support of those who are serving.
British Armed Forces Covenant
In May 2021, SAS signed a covenant with the British Armed Forces to help current and former Armed Forces personnel and their families pursue analytics training and employment opportunities. SAS will provide free training and significant discounts on learning and development products to build up data and analytics skills in the British Armed Forces. It will also help service leavers transfer their valuable skills to a career in analytics.
From Service to Software: Hear the career journeys of SAS military-affiliated employees
The Ryals Family
SAS Senior Software Development Manager, Michelle Ryals, is a testament to the value that the military community brings to our company. She's a hard working employee, a veteran, a military spouse, and a mom. Hear Michelle's story about how her time in the military led her to a 28-year (and counting!) career with SAS!
Michael and C-5 in Evenes, Norway on a Humanitarian Mission
Michael Orlando, a Sr. Technology Software Analyst, brought his skills to SAS after a 25+ year career in the military. From 1988 to 2015, Michael served in the US Air Force as a Jet Engine Mechanic, C-5 Flight Engineer, and C-130 Specialist Flight Chief before hanging up his boots in 2015 after several tours around the world. Since 2009, Michael has been working in the IT organization leveraging his skills acquired in the military, as well as contributing to SAS military outreach and engagement efforts. Hear Michael's story!
On Veterans Day, SAS employee service members and veterans received a custom challenge coin from the SAS Executive Team, as a small token of appreciation for their service to their country, and continued service at SAS. The coin was designed by US Air Force Veteran, Program Manager and Chair of the SAS Military Network, Dan Schaub.
Principal Program Manager and US Marine Corps Veteran, BJ Mulligan, speaking to service members at a military networking event at SAS.
CEO Jim Goodnight receives the Pro Patria Award from Ken Oppenheim, NC Area Chair, Employer Support of the Guard and Reserves.
I can't tell you how thankful I am to work at SAS where support for our Veteran community is very real. I had the opportunity to represent SAS at events for transitioning service members and families.
Ben Sneyd
SAS Software Developer, Air National Guard and Active-Duty US Air Force Veteran