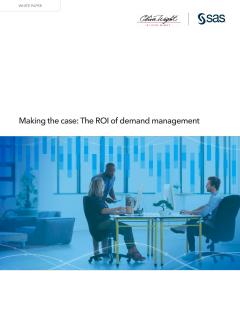 White Paper
Making the Case: The ROI of Demand Management
presented by SAS
---
Demand for various products and services – especially consumer goods – changed swiftly in 2020. Traditional forecasting and planning approaches just didn't cut it.
Automation, machine learning and advanced analytics are changing the game quicker than ever.
Industry experts at SAS worked with business process pros at Oliver Wight on this white paper, which explains how to evaluate and communicate the value of improving demand plan credibility.
Complete with specific templates that help quantify and document ROI, this new paper explores:
Why a change of mindset is needed.
What needs to improve.
How to quantify the financial benefits of improvement.
Which structure works best for quantifying costs and benefits.
How to document qualitative benefits.