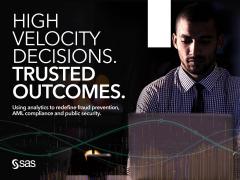 E-Book
High velocity decisions. Trusted outcomes.
Using analytics to redefine fraud prevention, AML compliance and public security
---
Protecting against fraud, money laundering and public security challenges requires making intelligent decisions that guide swift, effective actions. The impact of each decision made stretches far beyond any individual event, application, transaction, claim or alert. Organizations that adopt an analytics mindset are finding new ways to counter spiraling problems that plague our world – from identity theft scams to money laundering by organized criminals to fraudsters attempting to steal government stimulus money. This e-book shares examples of how and why this approach works.