TDWI Best Practices Report

Hadoop for the Enterprise

Making data management massively scalable, agile, feature-rich and cost-effective

Can Hadoop rise to the challenge of meeting the needs of the entire enterprise? According to this TDWI report by Philip Russom, the answer is definitely yes.

In fact, it's likely that in just a few short years, Hadoop will become mainstream within organizations.

TDWI Best Practices Report: Hadoop for the Enterprise

This report sheds light on the many new products, technologies and trends surrounding Hadoop, including:
Business and technology drivers for Hadoop.
Hadoop's benefits and barriers.
Organizational practices for Hadoop.
Current and future applications, platforms and tools.
Best practices and top priorities for enterprise Hadoop.

Plus, the report includes a list of some of the top vendor platforms in the Hadoop ecosystem.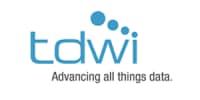 About SAS
SAS is the leader in analytics. Through innovative analytics, business intelligence and data management software and services, SAS helps customers at more than 83,000 sites make better decisions faster. Since 1976, SAS has been giving customers around the world THE POWER TO KNOW®.
¿Tiene un Perfil SAS? Para completar este formulario automáticamente Ingreso