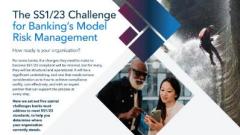 GUIDE
The SS1/23 Challenge for Banking's Model Risk Management
How ready is your organisation?
---
With MRM SS1/23 finally here, is your organisation in a position to meet the May 17th 2024 deadline?
For some banks, the changes they need to make to become SS1/23 compliant will be minimal, but for many, they will be structural and operational.
In this compliance guide we set out five central challenges banks must address to meet SS1/23 standards, to help you determine where your organisation currently stands.