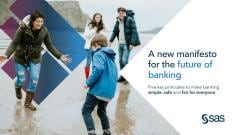 eBook
A New Manifesto for the Future of Banking
presented by SAS
---
About this eBook:
In a volatile world, how can banks deliver simple and safe banking that is fair for everyone? This manifesto outlines the five key principles that banks should adopt to create a system that can meet society's needs over the coming decades.
In particular, the eBook outlines:
The five key principals for more equitable banking
The social purpose banks face today
Responsible risk management and a refreshed modelling ecosystem
Ethical use of advanced analytics and AI models
Defending customer service against fraud and financial crimes
Download the manifesto to understand how bank can get to grips with tomorrow's problems, today.