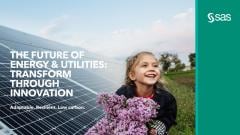 eBook
The Future of Energy & Utilities
It's time to transform through innovation!
---
Where is the Energy & Utilities industry today, and where does it want to be tomorrow?
Download our FREE eBook to find out how we're helping our customers in this sector transform and WIN!
We deliver world-leading analytics and decision intelligence to suit your preferred IT environment; giving you the freedom and agility to focus on accelerating time to value while also differentiating your core business.
With SAS you can:
Reduce uncertainty
Lower Risk
Build Resilience
Advance Innovation
Prepare for possible threats
Move towards net zero
Download our eBook now.
For further information about how we're helping organisations like yours innovate, contact us today.