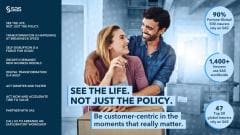 e-book
Be customer-centric in the moments that really matter
See the life. Not just the policy.
---
It's time to look beyond the policy and get to know your customers better. By extracting powerful insights from every data source at your disposal, it can help you to act smarter and faster in the moments that really matter. This is the key to out-perform today's InsurTech competitors or the likes of other e-commerce giants who are threatening to disintermediate traditional players.  
Traditional insurance businesses benefit from their longstanding relationships, experience and heritage. But, how can this value be realised to ensure success? We can help you leverage such critical advantages and put  customer insights to work; so you can begin to accelerate time-to-value in this new insurance era.
In this e-book, we'll show you what's possible with a digital twin that uses AI and advanced analytics to:
Predicts a lifetime journey for your customers
Wow your customers with an integrated customer-centric approach.
Surface the right data to be able to make faster, smarter decisions.
Deploy real-time underwriting engine to support straight through processing.
Process claims quickly and efficiently.
Unleash patterns of potential fraudulent claims and improve cost efficiency.
Fast-track innovation and move from selling product to insurance as-a-service and preventative insurance.