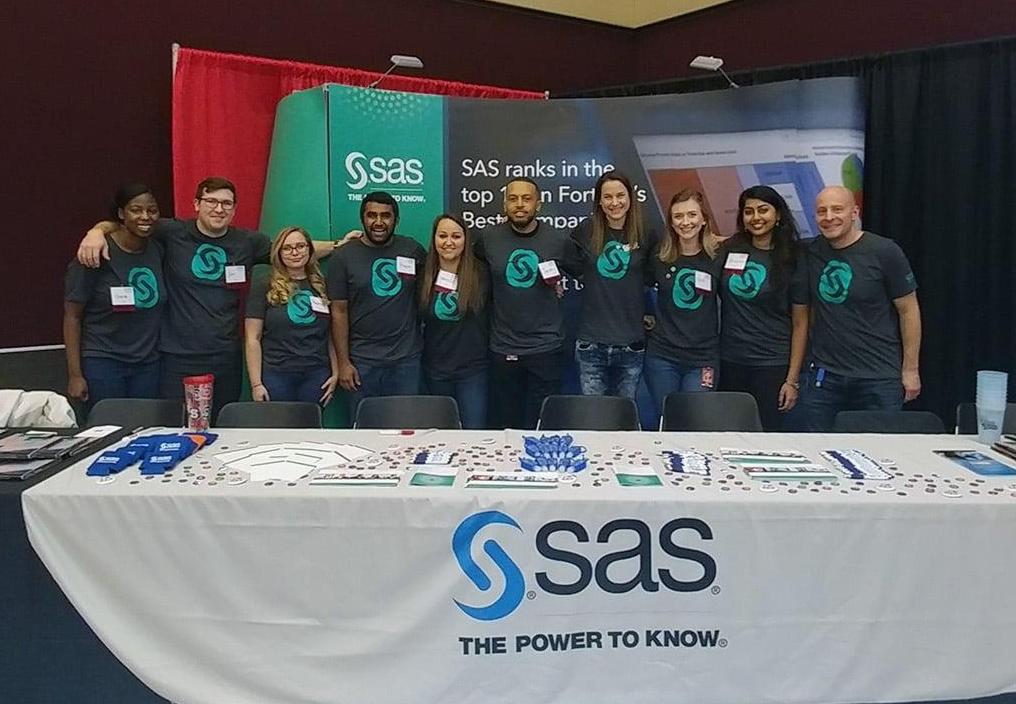 Diversity Outreach & Recruiting
Connecting and Engaging
We are focused on paving our path forward by expanding diverse, equitable and inclusive hiring practices.
Enhancing our outreach
Outreach and candidate sourcing are the most important parts of the hiring process because they affect the entire recruitment funnel from initial application to hire. Our diversity outreach and recruiting strategies consist of:
Candidate sourcing via recruitment tools such as LinkedIn and Handshake.
Conferences.
Career fairs.
Job boards.
Professional associations.
Military bases and organizations.
Nonprofit organizations focused on STEM.
University Recruitment.
Diversity in Statistics
SAS partners with the American Statistical Association (ASA) Committee on Minorities in Statistics to increase diversity in the field of statistics by participating in StatFest and the Diversity Mentoring Program. These programs are designed to share unique career opportunities in statistics with historically underrepresented communities.
United in STEM Diversity Internship Program
Our summer internship program is one intentional way that SAS infuses new ideas and energy in the workforce. In order to ensure diverse representation, we launched our first diversity internship program in 2008, now called United in STEM: SAS Diversity Internship Program. United in STEM is designed to provide a valuable work expe­rience for students enrolled in an accredited STEM-related degree program who identify as neurodivergent; Black or African American; Latinx; Indigenous and other historically underrepresented students of color; women; and students affiliated with the US military (service members, veterans and military spouses). This program provides the opportunity to work in an inclusive environment, receive mentorship and coaching, and work on meaningful projects that contribute to SAS' success. Learn more about the SAS internship program, eligibility, and how to apply.
Early Career Outreach & Recruitment
Our early career talent strategy is an important part of how SAS secures its future. For decades, our award-winning internship program has provided a pathway for students to get exposure to hands-on experience and a taste of the SAS culture.
Our engagement with students is intentional and includes strategies to reach diverse talent at several STEM universities, including Historically Black Colleges and Universities (HBCUs) as well as predominantly white institutions (PWIs). In 2020, our recruiting team participated in 30 diversity-related university events to attract diverse talent to our internship and early career positions. We also use Handshake, a student recruiting platform, to post job opportunities and communicate with students from over 1,000 universities across the United States.
HBCU Engagement
We proudly participate in the Congressional Bipartisan HBCU Caucus' HBCU Partnership Challenge. This initiative focuses on addressing the over 200 years of systemic inequity that HBCUs have faced by bringing together industry, government and universities to help level the playing field for HBCUs and their students.
SAS participates in the following HBCU initiatives to fuel our talent pipeline and support HBCU students in their development:
SAS HBCU STEM Connect and HBCU Business Connect
SAS HBCU Academic Excellence Program
NC Governor's HBCU Internship Program
Going for Gold Partnership
HBCU Golf Invitational
Carolina Health Informatics Program (CHIP) ENABLE Program
To learn more about HBCU Engagement at SAS, click here.
Diversity Outreach and Collaboration
SAS employees volunteer time and resources to several career fairs, workshops, conferences and networking events to provide job seekers with a better understanding of what a STEM career looks like at SAS.
Triangle Women in STEM
WomenHack
Service Academy Career Conference
Military Officers of America Association
Out for Undergrad – Tech
NC Autistic Career Summit
"Diversity recruitment is an essential component to evolving our workforce at SAS to be more inclusive, as well as reflective of the customers and communities we serve. Our outreach efforts are intentionally focused on ensuring equitable hiring processes and attracting top talent representing different perspectives, backgrounds, and experiences. We recognize the significance of such practices as well as the value it brings to our overall organizational success."
Christal Graves
Diversity Talent Acquisition Lead, SAS
SAS HBCU Alumni employees participate in panel discussion with students at the annual SAS HBCU STEM Connect event.
SAS outreach events attract job seekers interested in transforming virtual reality into real career possibilities.
Different backgrounds, experiences, perspectives and cultures from over 50 countries around the world blend together to show the true face of innovation at SAS.