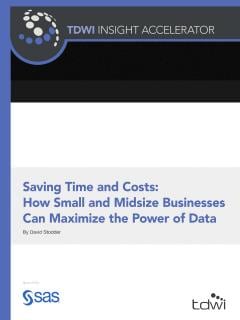 White Paper
Saving Time and Costs: How Small and Midsize Businesses Can Maximize the Power of Data
TDWI Insight Accelerator
---
With competition fierce for customers, market growth, and overall business and financial performance, data is too important to be relegated to substandard tools and platforms.
The primary challenge for SMBs today is how to move beyond legacy tools and practices that stand in the way of seizing new opportunities with data. Automation and ease of use are essential qualities in modern tools that enable SMBs to solve data challenges and use data effectively.
The TDWI Insight Accelerator white paper identifies key issues that SMBs need to address and offers six recommendations for businesses to modernize data integration, improve user experiences and maximize business benefits.