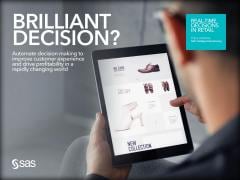 White Paper
Brilliant decision?
Automate decision making to improve customer experience and drive profitability in a rapidly changing world
---
In the battle for consumers' hearts and minds, retailers have typically focused their digital transformation initiatives on customer experience and engagement. However, in these challenging times, it's not enough to just get the customer's attention — you need to convert impressions and site or store visits into sales and fulfilled orders.
This e-book will suggest that retail's future sustainability depends on more than just reimagining the customer experience in store and online. Rather, it requires more profound and comprehensive changes to the retail business model to back up those experiences with commercial intelligence that drives conversions, not just engagement. To achieve this, retailers need to be able to join up and scale up their analytics capabilities, combining consumer data with supply chain insight to generate the best decisions for each customer journey automatically and in real time.
Download this e-book to learn about intelligent decisioning and how it can help retailers address the major challenges that stand in the way of long-term growth and financial sustainability.