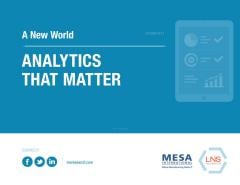 White Paper
Analytics That Matter: A New World
presented by SAS
---
This much-anticipated study examines industrial companies' progress in analytics over the past two years, including the recent impact of COVID-19. The report is based on an LNS Research survey of nearly 6,200 plants. 
In this informative and useful e-book, you'll discover: 
The critical analytics you're overlooking and how to refocus.
How to create a successful data model and why that's key to your industrial transformation (IX).
What analytics leaders care about and how you can be an IX leader, too.
How to transform your organization, not just spin your wheels with more tools.