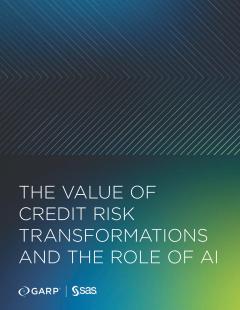 White Paper
The Value of Credit Risk Transformations and the Role of AI
presented by SAS
---
To shed light on the state of credit risk transformations and all of the associated challenges, SAS and the Global Association of Risk Professionals (GARP) in July 2022 surveyed roughly 300 credit risk executives and practitioners from a globally distributed sample of financial institutions.
As banks seek continued progress in their credit risk transformation journey, the insights gathered by SAS and GARP reveal the obstacles they face. Key areas addressed by the survey, and detailed in this report, include:
The business objectives of credit risk transformation.
The scope and challenges of credit risk transformation.
What's next for credit risk managers.