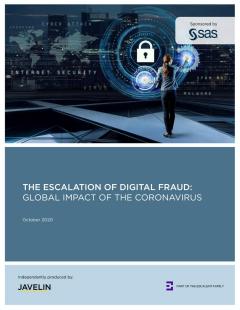 White Paper
The Escalation of Digital Fraud
Global Impact of the Coronavirus
---
Digital payments around the world are growing as technology becomes more available across developing countries. Fraud is shifting drastically from counterfeit card capabilities toward harder-to-identify fraud schemes. 
COVID-19 has not changed how fraud is committed but has shone a bright light on the risks of fraud in a digital age. Without technological and operational improvements, the global rise of digital fraud will surpass the losses associated with counterfeiting magnetic stripe payment cards.
This report is based on 120 independent interviews of payment and security executives in 20 countries and delivers a clear picture of how digital fraud has changed the global operating environment for financial institutions.