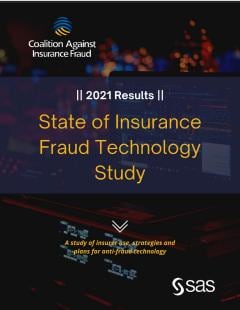 White Paper
The State of Insurance Fraud Technology
A study of insurer use, strategies and plans for anti-fraud technology
---
For the third consecutive time in six years, insurers report increasing amounts of suspected fraud. Nearly three-quarters of insurers in the 2018 survey say fraud has increased, an 11-point increase since 2014.
Other findings include:
Anti-fraud technology is seen as a major weapon to address increased fraud.
Insurers are relying much less on traditional technologies and more on predictive modeling, link analysis and exception reporting. A few also employ artificial intelligence.
In the last two years, new players in the field have increased anti-fraud technology offerings.
With increased competition and more outsourced services, costs in some areas have declined.
The expansion in anti-fraud technology does have growth pains, however. Insurers report increased frustration with integrating data into their systems and continuing problems with high levels of false positives.