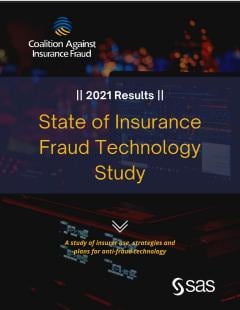 White Paper
2021 State of Insurance Fraud Technology Study
A study of insurer use, strategies and plans for anti-fraud technology
---
Since its 2012 debut, this biennial study by the Coalition Against Insurance Fraud and SAS has shed light on how insurers' use anti-fraud technology, their fraud detection strategies, and future plans to expand their technology capabilities.
As fraud continues to roil the industry, it's not surprising that the adoption of insurance anti-fraud technologies among respondents grew since the previous study in 2018.
Key findings:
80% of respondents currently use predictive modeling to detect fraud, up from 55% in 2018.
Within the next 12 to 24 months, 71% are considering investing in technology for the detection of claims fraud.
65% of those looking to procure or expand their use of analytics are doing so to improve quality referrals.