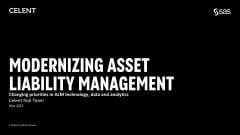 White Paper
Modernizing Asset Liability Management
Changing priorities in ALM technology, data and analytics
---
In March 2023, SAS and Celent joined forces to survey 266 risk, treasury, finance and IT professionals from top financial institutions in 22 countries to discuss technology and data science modernization in asset/liability management (ALM) from the buyer's perspective. This survey, completed during a time of market volatility, shows the value of integrated balance sheet management catapulted to the forefront.
The study explores these topics and more:
Best practices in balance sheet optimization and capital planning.
Analytics modernization and next-generation data science.
Technology modernization in ALM, including smart automation and orchestration, DevOp and cloud.
Migration path to ALM modernization.