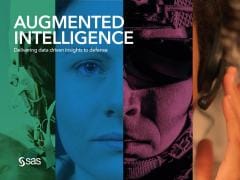 E-Book
Augmented Intelligence
Delivering data driven insights to defense
---
The face of modern warfare continues to evolve at a rapid pace. To meet today's challenges, now is the time to augment personnel with industry leading artificial intelligence (AI) to create a new class of augmented intelligence.
There's been a massive increase in the use of AI, which shows great potential for future defense capabilities, but also poses a greater threat when in the hands of adversaries. SAS provides AI solutions to companies and governments around the world, helping them solve problems and meet challenges.
Download this free e-book to learn how SAS AI will allow defense departments to make the leap to the next level required to meet today's, and tomorrow's, defense and national security challenges.