We invite you to our open source analytics event

Get inspired and see how big companies like Nestlé are using SAS and R in combination and why it's not enough to teach only R at universities. To nurture the collaboration with both academic institutions and industry, it's key to maintain expertise in both statistical environments.
How much time do you spend on integration with other systems for the data preparation, aggregation and deployment?
How does IT manage the R deployment within your organization?
How much maintenance do R packages require?
How long does it take to do your modeling task with R?
Use SAS added value, structured analytics and powerful modeling combined with open source extraction capabilities to derive value from new types of data, such as videos and images.
What can you expect?
Nestlé Research Center, Laura Gosoniu, Biostatistician – real case from R users to SAS integration and how R and SAS can coexist
ZHAW, Prof. Gerold Baudinot, Director of Department Computer Science, Electrical Engineering and Mechatronis – the importance why SAS and R should be teached in study courses
SAS, Mark Wolff, Principal Industry Consultant – how to embrace and extend the integration with Open Source Analytics
Contact
We remain at your entire disposal for any information you may require.
Phone: +41 44 805 74 74, isabelle.wirth@sas.com
When
Thursday, December 3rd 2015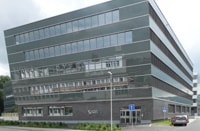 Where

SAS Institute AG
Richtistrasse 11
CH – 8304 Wallisellen
www.sas.com/ch


Contact
We remain at your entire disposal for
any information you may require.

Isabelle Wirth
isabelle.wirth@sas.com
+41 44 805 74 74