SAS®9 at the Warsaw School of Economics
Educating Poland's future business elite
Warsaw School of Economics (WSE) won the 2004 Enterprise Intelligence Award (Academic Category) in recognition of the School's innovative use of SAS®9 software in teaching and research. The WSE's senior academics and an award-winning student explain how SAS helps to bridge academia and business, educating future generations of economic strategists and senior managers.
Founded in 1906, the Warsaw School of Economics is the oldest economics university in Poland and one of Europe's leading management schools, with some 16,000 students, 3,000 of whom are doing postgraduate research. It offers many fields of study to its full-time and part-time students, including Economics, European Studies, Finance and Banking, International Relations, Marketing and Management, Public Administration, Quantitative Methods in Economics and Information Systems, and Spatial Economy. Professor Marek Rocki, Rector of the Warsaw School of Economics, has made it a priority to "integrate these courses while meeting the requirements of modern teaching" in order to produce a new generation of managers and economic strategists – people who will make Poland a highly competitive force in the European and global economy.
The School is also a pioneer of modern economic and social thought and sees the development of ethical values in the worlds of science, economics and business as an important part of its mission. One of its distinguished academics is Professor Ewa Fratczak, Professor in the Institute of Statistics and Demography and Head of the PhD Program at the Collegium of Economic Analyses at the Warsaw School of Economics. Fratczak is also Secretary General of the Governmental Population Council and Head of the Demographic Committee of the Polish Academy of Sciences. She is the author of numerous research papers published in both English and Polish.
Since the early 1990s, WSE has radically reformed its teaching program, integrating courses and giving students greater scope to define their areas of study. Starting in 1994, WSE has been working in close cooperation with SAS Institute as part of this drive to broaden horizons. Today, SAS is involved in 13 different graduate courses as well as two postgraduate studies: Customer Relationship Management (CRM) and SAS Applications in Business. "We aim for the highest standards of academic and professional education for our students, preparing them for both research work and business activity. We do appreciate the initiatives of SAS in this field," says Fratczak.
For example, the CRM postgraduate course provides students with theoretical and practical knowledge about customer behavior, such as which customers are likely to stay loyal to a company, and which are likely to leave. Students also learn about marketing campaign management, e-marketing and information systems in the course of 200 hours of lectures. SAS products and solutions SAS Enterprise Miner, SAS Web Analytics and SAS Marketing Automation are central to the teaching curriculum.
"We have designed a range of teaching projects using SAS for various departments. We want to show students that SAS is a powerful tool to be used in many subject areas and research fields such as banking, insurance, management and marketing," says Fratczak, who emphasizes the importance of hands-on experience with SAS. SAS Institute specialists and corporate customers are frequently invited to lead unique lectures that help to broaden students' knowledge about business intelligence applications. Students who get acquainted with the software then have an opportunity to do traineeships with SAS Institute Poland or with SAS customers – a key advantage in a country where there is intense competition for jobs.
In recognition of its innovative teaching and successful research projects, Warsaw School of Economics was awarded the Enterprise Intelligence Award (Academic Category) by Dr Jim Goodnight, President and Founder of SAS, at the 2004 SAS Forum International in Copenhagen. Receiving the award on behalf of WSE, Ewa Fratczak looked forward to the benefits of continued cooperation with SAS. She was particularly excited about working with the new release of SAS software: "I think that SAS®9 moves both the technology and the solutions forward, and this will mean we too will make further good progress in our use of SAS."
SAS Student Ambassador
Also present at SAS Forum International was SAS Student Ambassador Przemyslaw Piotrowski of the Warsaw School of Economics. As part of the SAS Academic Program's Student Ambassador Competition SAS selects five students who use SAS as part of their thesis or PhD and gives them the opportunity to present their research projects at SAS Forum International. Piotrowski's project used a simple neural network to understand the behavior of individual bank customers.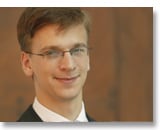 SAS Student Ambassador Przemyslaw Piotrowski of the Warsaw School of Economics
Piotrowski explains the importance of the Academic Initiative in building bridges between universities and business: "In Poland our academics do a lot of quite brilliant research, but they do not have a great deal of access to commerce or industry. The SAS Academic Program provides that connection, and it also provides the sophisticated software tools that enable researchers to do projects that meet business needs.
"At the Warsaw School of Economics, postgraduate students generally aim to do things that are not simply theoretical, but are of practical application." And that calls for practical software tools. Piotrowski says there are several vendors that provide solutions for research in data mining, but none can match the sophistication and simplicity of SAS Enterprise Miner. "During my course I studied neural networks and I saw the beauty of Enterprise Miner, especially the speed with which you can build models," he says.
Piotrowski used real data from Poland's banking sector to identify those customers that presented the greatest source of credit risk and those that were potentially the most profitable. "A bank that knows which customers are most valuable can adjust its marketing campaign and focus limited resources to maximum advantage," says Piotrowski. He hopes that his project will help to popularize the use of neural network technology in banking. "The results of the project illustrated how to improve the accuracy of predicting a specific customer's behavior. Neural networks present some challenges compared to other techniques such as linear regression, but in some situations the technology brings significantly superior effects, so it may be beneficial to extend traditional analyses with neural models, especially when the questions being asked are complex."
Piotrowski was thrilled to be able to attend SAS Forum International, present his findings and, in particular, learn about SAS solutions from other presenters and attendees. "It may sound a bit lofty, but for me these three days were as intense as a whole semester. This was certainly an unforgettable experience. We got to appreciate the size of the SAS world out there."
Competing on the European and global stage
Partnership with SAS and the SAS Academic Program has support and commitment from the highest levels at WSE. "Students who get hands-on experience with SAS enter the world of business with a huge competitive advantage," says Professor Marek Rocki.
These students will be tomorrow's economists and managers, the future strategists of Poland's economy. With Poland's accession to the European Union, this takes on an important international dimension, too. Domestic study programs are being adapted to assist graduates in finding employment abroad. "Being part of the EU opens up exciting new opportunities for us, and may extend our work with other universities internationally. From an economic point of view, there are also some major challenges ahead. Poland has high unemployment and it faces structural problems, especially in agriculture. It is important that graduates and research students are equipped to accelerate the transition to a free economy competing on the European and global stage," concludes Ewa Fratczak.
The results illustrated in this article are specific to the particular situations, business models, data input, and computing environments described herein. Each SAS customer's experience is unique based on business and technical variables and all statements must be considered non-typical. Actual savings, results, and performance characteristics will vary depending on individual customer configurations and conditions. SAS does not guarantee or represent that every customer will achieve similar results. The only warranties for SAS products and services are those that are set forth in the express warranty statements in the written agreement for such products and services. Nothing herein should be construed as constituting an additional warranty. Customers have shared their successes with SAS as part of an agreed-upon contractual exchange or project success summarization following a successful implementation of SAS software. Brand and product names are trademarks of their respective companies.
Copyright © SAS Institute Inc. All Rights Reserved.