VUB Cuts Time to Intelligence for Risk Reporting
Slovakia's VUB needed to integrate all transaction and customer data into a single source of intelligence, for both internal risk measurement and regulatory reporting. Its Risk Data Infrastructure (RDI) and in-house risk expertise have reduced time to intelligence from days to just two hours and have given VUB unique competitive advantages.
A subsidiary of Gruppo Banca Intesa, VUB is Slovakia's second largest bank with 2 million retail customers and 90,000 business customers. It is Slovakia's largest issuer of mortgages, a tough market with many institutions offering cut-price loans.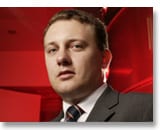 Samuel Kytka, Executive Manager, Risk Management Group
The system integrated data from no fewer than 10 legacy systems and reconciled it with general ledger data. "Data integration was a key reason for choosing SAS," Samuel Kytka, Executive Manager, Risk Management Group, VUB Bank. Before RDI, data had to be reconciled manually, which took days.
After RDI, all of the data integration and reconciliation could be performed automatically in two hours, and the process has become even faster in 2006. Advantages of the solution include:
Unified data structures and granularity

Auditable data

Up-to-date information

Low maintenance

Fast daily reporting and ad hoc analyses

User-friendly presentation layer

Openness – ability to import new data

Common platform for all risks
RDI supports liquidity reporting, credit, interest rate, operational and FX risk reporting. As a result of the implementation of RDI, VUB analysts can now devote more time to making the bank more profitable. For example, they used historical data to measure the stability of deposits and to remodel VUB's liquidity position, enabling the bank to release more funds for high interest-bearing investments.
After the successful completion of the integrated RDI project, a new project for Basel II compliance and credit scoring commenced in December 2005. VUB will implement the Basel II standardized approach in 2007 and the internal ratings based (IRB) approach in 2009.
This new project is under development and being implemented with the SAS Credit Risk Management solution. The final solution will integrate existing Risk Data Infrastructure with Detail Data Store that serves as a primary data store for SAS Credit Risk Management Solution.
VUB is the only Slovak bank that is implementing a local end-to-end solution for risk management – adding to its customer insight and satisfying the local regulator.
The results illustrated in this article are specific to the particular situations, business models, data input, and computing environments described herein. Each SAS customer's experience is unique based on business and technical variables and all statements must be considered non-typical. Actual savings, results, and performance characteristics will vary depending on individual customer configurations and conditions. SAS does not guarantee or represent that every customer will achieve similar results. The only warranties for SAS products and services are those that are set forth in the express warranty statements in the written agreement for such products and services. Nothing herein should be construed as constituting an additional warranty. Customers have shared their successes with SAS as part of an agreed-upon contractual exchange or project success summarization following a successful implementation of SAS software. Brand and product names are trademarks of their respective companies.
Copyright © SAS Institute Inc. All Rights Reserved.