SAS® provides Middlegame with flexibility, speed and powerful analytics
Middlegame Marketing Sciences, LLC founder Todd Kirk operates a small consulting shop that turns out big projects for major consumer products goods companies. SAS Analytics give him the ability to work with large data sets and build complex models quickly without needing a team of programmers and statisticians.
About Middlegame
The company measures how well marketing creates positive brand awareness as well as generates tangible sales results.
Kirk helps firms optimize new product launches and maximize assortment plans for existing products/prices/promotions (trade and advertising) that focus on total portfolio sales and/or profitability.

Choosing SAS®
Kirk likes that SAS can integrate data from many sources, very quickly. "It helps me generate these results and put them into a format that I can work with, which is much better than needing to write code in Visual Basic or C++."
Flexibility and stability are critical as well. "Other programs run out of memory in an hour and a half. I don't have to worry about that with SAS,'' says Kirk. A typical project might include multiple data sets, each 12 to 14 gigabytes. SAS also lets him analyze data in multiple ways.
Client success
His sophisticated analysis helped one company determine that spending 80 percent of the marketing budget at sporting events that only occur every two to four years wasn't driving sales effectively. SAS helped Middlegame demonstrate to the company that there were more sales generating opportunities in the 20 percent of the budget not devoted to big events.
Kirk developed a predictive model using SAS that showed a nutrition bar company that eliminating single-serving packaging, relying on multi-packs instead, would be detrimental to future sales.  The client rebuilt their marketing efforts around the variety offered by the singles.

The real ROI
Kirk's success drives repeat business so well he doesn't market. "It's not 100 percent repeat business, but it is close."
"With SAS, I can manage four or five projects at the same time. It's so efficient that I don't need to hire anyone else for modeling. And I'm so confident in its stability that I don't worry about stepping back and working on another project while it crunches the data for me. SAS just does so much for me behind the scenes,'' Kirk says.

The results illustrated in this article are specific to the particular situations, business models, data input, and computing environments described herein. Each SAS customer's experience is unique based on business and technical variables and all statements must be considered non-typical. Actual savings, results, and performance characteristics will vary depending on individual customer configurations and conditions. SAS does not guarantee or represent that every customer will achieve similar results. The only warranties for SAS products and services are those that are set forth in the express warranty statements in the written agreement for such products and services. Nothing herein should be construed as constituting an additional warranty. Customers have shared their successes with SAS as part of an agreed-upon contractual exchange or project success summarization following a successful implementation of SAS software. Brand and product names are trademarks of their respective companies.
Copyright © SAS Institute Inc. All Rights Reserved.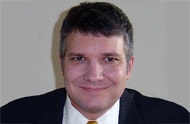 Todd Kirk, Principal and Owner
Middlegame Marketing Sciences
Challenge:
Middlegame consults on complex marketing plans using large databases to predict sales and profitability of different marketing strategies.
Benefits:
Middlegame doesn't market its service – nearly 100 percent of its business is repeat with the rest through word of mouth. Customers are satisfied with the depth of Middlegame's predictions and recommendations.
"SAS Analytics make our company fast and efficient, benefiting our customers and making us more profitable"
Todd Kirk
Principal and Owner, Middlegame Marketing Sciences, LLC