Meyer Werft Continues on Course
Meyer Werft in Papenburg, Germany is one of Europe's most modern shipyards. Thanks to flexibility and innovative readiness, the company has been able to secure one of the top positions in the highly competitive cruise ship market. This tradition-bound shipbuilding company relies on SAS solutions to coordinate their complex planning and production processes. 
The town of Papenburg, population 35,000, is situated on the banks of the Ems River. And it's another 40 kilometers from there to the North Sea – to Dollart Bay, which cuts deeply into the countryside between East and West Friesland. 
Visitors to this oldest moor settlement in Germany, first mentioned in documents dating back to 1458, are immediately impressed by the city's geographic proximity to the Netherlands. Canals and drawbridges characterize the cityscape, while brick houses with deeply set windows exemplify the old architectural style. But Papenburg's most striking structure is located outside the city center at the industrial harbor: it's one of the largest covered dry docks in the world and stands right in the middle of the expansive, Meyer Werft facilities. 
The company, founded in 1795, is now the world's number three cruise ship manufacturer, with a market share of 25 percent. The company largely owes its fame to its inland location, rather unusual for a major shipyard. Everyone in Germany is familiar with pictures of huge ocean liners being carefully towed 40 kilometers downstream along the little Ems River, as though gliding through meadows, finally reaching the North Sea south of Emden. Since the new shipyard facilities went into operation in 1975, almost 100 ships have been launched from Papenburg. In addition to cruise ships, which have been produced there since 1984, these ships mainly include automobile and passenger ferries, passenger ships, and gas tankers.

Booked to capacity through 2012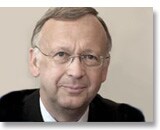 Bernard Meyer
Managing Director
If you ask Bernard Meyer, great-great-great grandson of the company founder and the sixth generation to head the company, how a shipyard far away from the sea in economically underdeveloped northwestern Germany can be a world-league player, he is not at a loss for an answer: "Flexibility and innovation are the be all and end all of cruise ship building. Our products have to be good, always that decisive little bit better. And we deliver on time."
Meyer Werft has stood for quality and on-time delivery ever since its founding 212 years ago. Shipping companies value the Papenburger's dependability immensely. And that's just one of the reasons that Meyer Werft is booked to capacity through 2012. 
But how do you manage to meet the precise delivery date, despite everything, when construction of a ship from the initial planning stage to final launch seldom takes less than 24 months; and when, depending upon the size of the order, more than 10,000 employees from the shipyard and partner companies are directly or indirectly involved in the preparation process and their efforts must be coordinated?
In order for Meyer Werft to keep a constant eye on all of these complex interactions, the company needs extremely efficient planning and control systems which are capable of living up to these special requirements. The self-generated software solution, "InfoYard", is based on SAS and plays a central role in this regard. InfoYard is used to analyze operational projects and capacities. It also functions as an integrated information system through which ongoing processes can be observed. InfoYard thus creates transparency in an environment that could not be monitored or managed holistically without the support of technology.

One system for all
The planning concept, originated back in the 1980s and pursued by Meyer Werft, underlies a permanent optimization process. From its earliest beginnings, the concept has been continuously developed, using the most modern technologies. 
In 2002, SAS replaced the technology that had been used up to that point. The purpose of this move was to enable the strategic objectives in the planning environment to be implemented using the latest technological standards and to allow for the expansion of the shipyard. Thus, the provision of information and associated reporting reached new levels because the necessary information could be subsequently accessed from a central system – totally independent of departments and organizational structure. 
A foreman, for example, needs an overview of the process-oriented timeline in his decision-making area, along with process-oriented information derived from the respective logistics requirements, parts lists and design drawings, as well as data on personnel deployment and simulation studies. 
Meyer Werft's decision to go with SAS was based partly on the flexibility of SAS's IT solutions portfolio. Other items in the company's profile were also attractive – for example, the ability to adapt the software quickly and reliably from the manufacturer to the particular circumstances of the shipyard. 
With approximately 300 users, InfoYard is currently running productively as a key component of the ERP environment. The solution assists numerous departments in designing their planning workflow much more efficiently. Classic planning tasks, such as the timely and optimal dispatching of processes, recognition of interdependencies, and goal-oriented control of pending tasks related to the production stage, can be completed with the same number of personnel, despite the increasing quantitative and qualitative requirements. 
The production processes mapped in InfoYard are also extremely diverse, and pertain to workflows in steel working, as well as to the placement of electrical cables or paint work, while also taking into account the design/engineering and production aspects. 
Cleverly thought-out reporting functions within an integrated information system support users in the departments and company management in project control by means of stoplight functions and drill-down functionalities, for example. With balanced scorecard methods and early warning routines, erroneous trends can also be detected at an early stage and provide the end user with a well-founded basis for making decisions about project work. These software tools help keep a contract on course and actively controlled through every phase of the project. 
Realizing strategic visions
InfoYard marks an important developmental step in production planning and control, as well as in the organizational character of Meyer Werft. These technical, system-related requirements enable the shipyard to realize its strategic vision. Modern software architectures, coupled with mature product data management philosophies, provide the end user an efficient work environment with respect to both operating and control aspects. In this way, information technology makes its contribution to the successful construction of ships, under current market conditions, which include increasingly shorter cycle times and constantly growing product complexity. 
Facts and information
Meyer Werft was established in Papenburg in 1795. Of the 20 or so shipyards that existed in this town on the Ems in 1920, it is the only one that has survived to the present day. Innovation and flexibility have woven their way through the entire history of the company – and these factors also determined the success of the company, which has continued to increase despite the trends in the German shipbuilding industry. 
Joseph L. Meyer began building steel hull ships powered by steam engines in 1872, thereby securing the future of the company. During the 1880s, Meyer Werft attracted new orders in the emerging field of luxury liners, while other German shipyards had to close their factory doors, due to international cost pressures. 
Today the company employs a staff of more than 2,300, with more than 8,000 additional jobs in the shipbuilding industry and among suppliers who depend directly on Meyer Werft. The company has become well-known because of its unique inland location - after being launched, these "big tubs" have to be delicately towed through the Ems into the North Sea.
In addition to the numerous ocean liners that Meyer Werft has completed over the last several years, the most famous ship in the shipyard's history is the Graf Goetzen, built in 1914. In John Huston's classic movie, "The African Queen," starring Katherine Hepburn and Humphrey Bogart, it appeared as the "Louisa."
The results illustrated in this article are specific to the particular situations, business models, data input, and computing environments described herein. Each SAS customer's experience is unique based on business and technical variables and all statements must be considered non-typical. Actual savings, results, and performance characteristics will vary depending on individual customer configurations and conditions. SAS does not guarantee or represent that every customer will achieve similar results. The only warranties for SAS products and services are those that are set forth in the express warranty statements in the written agreement for such products and services. Nothing herein should be construed as constituting an additional warranty. Customers have shared their successes with SAS as part of an agreed-upon contractual exchange or project success summarization following a successful implementation of SAS software. Brand and product names are trademarks of their respective companies.
Copyright © SAS Institute Inc. All Rights Reserved.