International Islamic University Malaysia builds world-class reputation with help from SAS®
International Islamic University Malaysia (IIUM) is striving to become a world-class teaching and research university. With SAS Strategic Performance Management, the university's balanced scorecard (BSC) process is automated, and more than 50 administrators and department heads can view updates quarterly. IIUM credits SAS with helping it reach its goal of having more of its faculty members recognized as experts in their fields as well as demonstrating efficiency in allocating budget.
Founded in 1983, IIUM now has four campuses with more than 20,000 students from 90 countries studying management, engineering, technology, medicine and the humanities. In 2001, university administrators adopted a strategic plan to raise the stature of the university. It began using the balanced scorecard (BSC) approach in 2004 to measure focus areas like teaching efficiency ratings, student employability, patents granted and research grants received. The university also measures cost per student.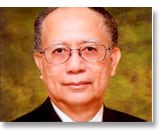 Prof. Dato' Dr. Syed Arabi Idid, IIUM Rector and Vice Chancellor
The balanced scorecard approach worked great, says Prof. Dato' Dr. Mohd Azmi Omar, Chairman of the BSC Core team and Dean of Office of Corporate Strategy and Quality Assurance, but it was time-consuming and difficult to quickly get the information to staff members throughout the university. "We had to call for a meeting and search for the data manually every time we wanted a new report, and that was very time-consuming,'' Prof. Dato' Dr. Azmi says. Other aspects of the scorecard were done manually by the staff.
"After three years of manual reporting, we believed it was time for us to automate the entire process,'' added Prof. Dato' Dr. Azmi "Especially now that we are bringing the information directly to all faculties and support divisions."
IIUM chose SAS because of its expertise in data integration and its certification through the Balanced Scorecard Collaborative. University officials also liked the fact that SAS has offices in Malaysia and is known for working collaboratively with its customers. It was also impressed with the work of SAS partner Marff Resources Sdn Bhd.
SAS Strategic Performance Management has done exactly what the university expected: deliver information quickly (quarterly vs. every six months) to employees throughout the university. By being able to communicate the university's vision staff are rising to the challenge: In four years, grants increased more than 400 percent, patents doubled, publications nearly tripled and faculty members recognized as experts in their fields grew from 10 to 40 percent. The university has done all of this while reducing the cost per student and increasing the revenue and profits of the university's business wings. Those profits are channeled back to the university as additional funds.
"The scorecard translates the IIUM strategic plan into day-to-day activities. It shows the cause-and-effect relationships so that a staff member not only knows what to do, but also knows why getting grants or earning a patent is important in achieving the university's objectives,'' explained Dato' Ahmad Zailan Shaari, the Chief Finance Officer and Deputy Chairman of the BSC Core team. The easy access to the KPIs has helped IIUM make speedy and accurate decisions. It previously took more than a week to generate the report. Now it can be accessed at anytime. It also takes much less time for the staff to generate the report.
"We wished we had embarked the SAS Strategic Performance Management earlier. It would have saved our effort and time of producing reports which was previously prepared and consolidated manually" adds Dato' Ahmad Zailan.
The university's efforts have been recognized by Prof. Dr. Robert Kaplan, the creator of BSC methodology from Harvard University  "He was impressed with the IIUM's achievement and considers us a 'success story' for transforming 'just a university' into a 'center of education excellence' to be emulated by other universities in the world,'' Prof. Dato' Dr. Azmi adds.
Prof. Robert Kaplan awarded the University with the prestigious Palladium BSC Hall of Fame 2008 for execution of strategy in Seoul, Korea, recently. IIUM is the third University in the world and first organization in Malaysia to be inducted into the prestigious BSC Hall of Fame. 
"I feel confident that the objectives are sound,'' says Prof. Dato' Dr. Syed Arabi Idid, IIUM Rector and Vice Chancellor. "The strategies we are adopting will steer the IIUM to a brighter future and enable us to grow in stature, capacity and reputation at the national, regional and international levels."

The results illustrated in this article are specific to the particular situations, business models, data input, and computing environments described herein. Each SAS customer's experience is unique based on business and technical variables and all statements must be considered non-typical. Actual savings, results, and performance characteristics will vary depending on individual customer configurations and conditions. SAS does not guarantee or represent that every customer will achieve similar results. The only warranties for SAS products and services are those that are set forth in the express warranty statements in the written agreement for such products and services. Nothing herein should be construed as constituting an additional warranty. Customers have shared their successes with SAS as part of an agreed-upon contractual exchange or project success summarization following a successful implementation of SAS software. Brand and product names are trademarks of their respective companies.
Copyright © SAS Institute Inc. All Rights Reserved.